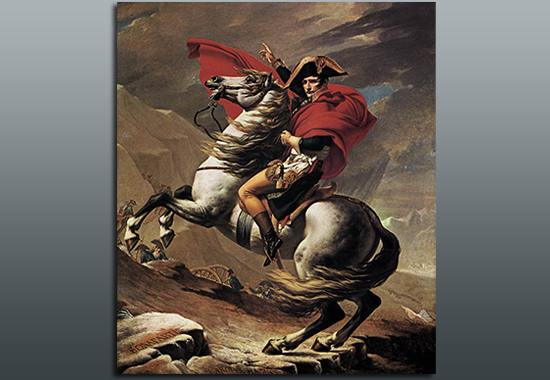 Napoleon I Bonaparte 1769-1821
Napoleon I, or in French Napoléon Bonaparte, was a highly ambitious career soldier with remarkable intellectual capacity and charisma.
Image Above

Napoleon I Bonaparte

Painting by Jacques-Louis David


He became one of the greatest military leaders in history, Emperor of France, and eventually a legend.

Inspired by his successful expansion of French territory and influence, Napoleon grew increasingly megalomaniacal.
Go here for the

Napoleonic Wars.
Napoleon's Roots

Corsica was annexed by France just three months before Napoleon's birth on the island. Although educated on the continent, Napoleon later made several trips back to Corsica and became involved in local politics.
Napoleon — Early Military Years
Napoleon achieved his early military victories at Toulon, France, and later in Paris against revolting royalists.
Go here for more on the

French Revolution.
After launching a brilliant military campaign against Sardinia, Italy, and Austria, Napoleon went on to undertake the less successful Egyptian Campaign.
A coup installed Napoleon officially as First Consul of France or, in effect, dictator.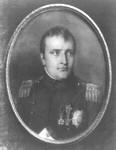 NAPOLEON I
Click image to enlarge
Napoleon's Family, Siblings, and Wives
Napoleon's parents were Charles and Letizia Bonaparte.
His parents were from

Corsica; their original names were Carlo Maria and Maria Letizia Buonaparte.
They had eight surviving children:
1. Joseph, born in 1768

2. Napoleon, born in 1769

3. Lucien, born in 1775

4. Élisa, born in 1777

5. Louis, born in 1778

6. Pauline, born in 1780

7. Caroline, born in 1782

8. Jérôme, born in 1784
Napoleon broke his engagement to Désirée Clary in favor of the widowed

Joséphine de Beauharnais. Joséphine and Napoleon married in 1796.

Joséphine de Beauharnais
Joséphine broke his heart and he divorced her in 1810 to marry Marie-Louise, daughter of the Austrian emperor

Francis I. It was Austrian mastermind

Klemens von Metternich