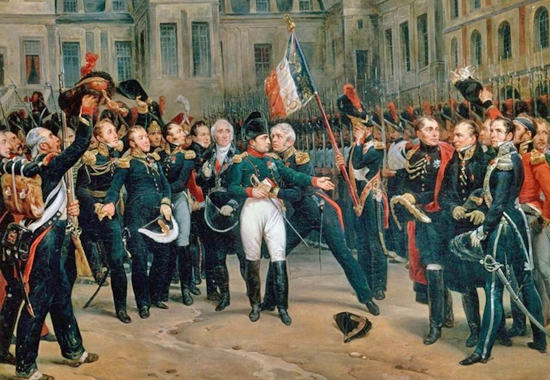 NAPOLEON SAYS AU REVOIR AT FONTAINEBLEAU - 1814

Adieux de Napoléon à la Garde Impériale

Go here for more about

Napoleon.

Go here for more about

Napoleon's Farewell to the Old Guard.
It follows the French full text transcript of Napoleon's Farewell to the Imperial Guard, his bodyguards, delivered in the Cour du Cheval Blanc, the courtyard of Cheval-Blanc, at the Chateau de Fontainebleau, which is located about 40 miles or 65 km south-southeast of Paris. The speech was given on April 20, 1814.
Here you can have a look around in the

Fontainebleau courtyard.
Here is the

English version of the speech.



| | |
| --- | --- |
| | Soldats de ma vieille Garde, |
Je vous fais mes adieux.
Depuis vingt ans, je vous ai trouvés constamment sur le chemin de l'honneur et de la gloire. Dans ces derniers temps, comme dans ceux de notre prospérité, vous n'avez cessé d'être des modèles de bravoure et de fidélité.
Avec des hommes tels que vous, notre cause n'était pas perdue. Mais la guerre était interminable ; c'eut été la guerre civile, et la France n'en serait devenue que plus malheureuse. J'ai donc sacrifié tous nos intérêts à ceux de la patrie ; je pars. Vous, mes amis, continuez de servir la France.
Son bonheur était mon unique pensée ; il sera toujours l'objet de mes voeux ! Ne plaignez pas mon sort ; si j'ai consenti à me survivre, c'est pour servir encore à notre gloire ; je veux écrire les grandes choses que nous avons faites ensemble !
Adieu, mes enfants ! je voudrais vous presser tous sur mon coeur ; que j'embrasse au moins votre drapeau !

[Après avoir serré dans ses bras le général Petit, et embrassé le drapeau, Napoléon reprend :]

Adieu encore une fois, mes vieux compagnons !
Que ce dernier baiser passe dans vos coeurs !


More History