Explorers, Scientists & Inventors

Musicians, Painters & Artists

Poets, Writers & Philosophers

Native Americans & The Wild West

First Ladies

Popes

Troublemakers

Historians

Archaeologists

Royal Families
Assassinations in History
Who got slain, almost slain, when, how, why, and by whom?

Go to the Assassination Archive

Online History Dictionary A - Z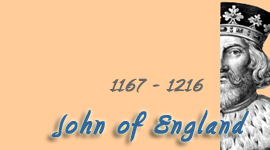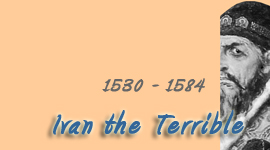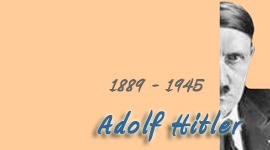 Voyages in History
When did what vessel arrive with whom onboard and where did it sink if it didn't?

Go to the Passage-Chart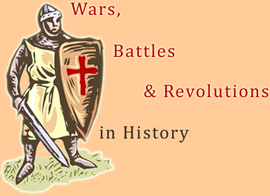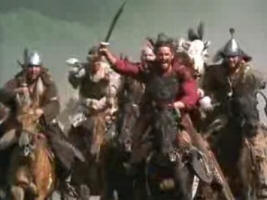 THE HUNS ATTACK
Image from the

movie Attila, 2001
The Huns
The exact origin of the Huns is unknown.

Many people have their theories but for each theory we have three anti-theories. For that reason, let's be vague and say that the Huns came from beyond the Volga River.

And here is the Volga River on a map (yellow arrows:)




The Huns in a Nutshell

All in all, the Huns played a big part in history from approximately 370 to 455. They were nomads and feared warriors. So they kicked butt as they went and acquired thus great wealth and a huge empire.

Famous king of the Huns was Attila.

View a map of Attila's empire.
What happened AD 376-395?
The Huns attack the

Goths, who implore the protection
of the Roman emperor of the East. The Goths are allowed to pass the Danube, and to settle in the Roman provinces.
A war soon breaks out between them and the Romans, and the emperor

Valens and his army are destroyed by them. They ravage the Roman territories. The emperor Theodosius reduces them to submission. They retain settlements in Thrace and Asia Minor.

In 441, the Huns attacked the Eastern empire.
And here is a map of the migration of the Huns

MIGRATION OF THE HUNS
Click map to enlarge

Roman Empire 5th Century: Routes of the Barbarian Invaders
More History