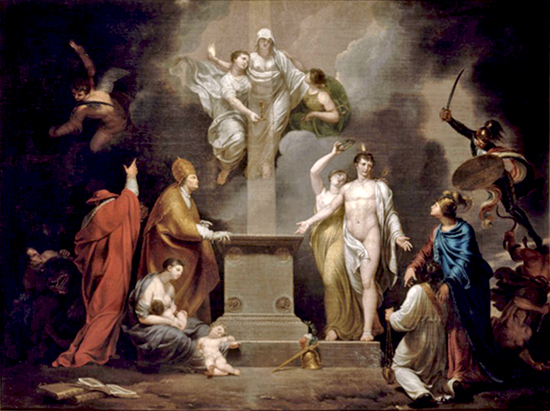 The Separation of Church and State
Concordat of 1801
Image Above

Allégorie du Concordat de 1801

Oil on canvas by Pierre Joseph Célestin FRANÇOIS, 1802

RMN

The Concordat of 1801 was concluded on July 15, 1801, at Paris, between France and the Vatican.
It was publicly declared on April 18, 1802.
What Made the Concordat of 1801 Necessary?
Triggered by the

French Revolution, the government of France had clipped the wings of the Catholic Church considerably. The Concordat of 1801 was an attempt of reconciliation.
Bishop Giovanni Battista Caprara acted as one of the negotiators between

Napoleon and the Pope.
What Was Agreed Upon in the Concordat of 1801?
The concordat recognized the Catholic Church as the religion of the French majority. The Catholic Church, in turn, gave up all claims on confiscated Church property.
However, the French government added an attachment to this concordat, the so-called Organic Articles (French: Articles Organiques) about which Pope Pius VII wasn't thrilled. In a nutshell, the Pope was given less power than the government.
Other articles decreed that Protestants were allowed to practice their religion and that, as far as the French administration was concerned, Protestantism was equal to Catholicism.
More History