Alexander III the Great 356-323 BC
Conquering the World in a Decade
According to

Napoleon, Alexander was one of the seven greatest generals in history.
Let's take it from a pro.

Above Image

Alexander the Great, Marble, British Museum.

Photo Yair Haklai

Alexander of Macedonia, or Alexander III, was born in Pella, Macedonia.
His life is at the root of many legends.
Alexander the Great in a Nutshell
Alexander conquered the entire then known world in a decade, which included the defeat of the ruling

Persian Empire.
And here is the map

The Conquests of Alexander the Great 336-323 BC
Alexander's Family, Friends, and Peers
His father,

Philip II, was assassinated when Alexander was 20 years old. Philip was the 18th king of Macedonia. Alexander became his successor in 336 B.C.
Interesting tidbit: 336 B.C. was also the year in which

Darius III became king of the Persian Empire.
Alexander's mother was not Angelina Jolie (you wish) but Olympias. Olympias was the princess of Epirus. Here is a

map of Epirus. And if you watched

the movie Alexander closely, you know that she was the kind of gal who knew what she wanted.
Then there was Aristotle. Aristotle was Alexander's tutor during his childhood.
Alexander's main male lover was Hephaestion, one of his bodyguards. When Hephaestion died, Alexander arranged a humongous funeral.
Alexander's firstborn son was Heracles by Stateira (Barsine). Unfortunately for Heracles, he was illegitimate.
Roxana became Alexander's wife in 327 B.C. They had a son together, Alexander IV.
Macedonian General Antipater was in charge of everything in Macedonia while Alex was gone fighting. Antipater died in 319 B.C.
Controversy: Did Alexander Order the Assassination of his Father?
The majority of historians doesn't think so.
Alexander the Great's Army
Alexander's army was rather small. He had at his disposal 5,000 cavalrymen and 30,000 infantrymen.
Not being fear inspiring in size, the army's strength lay in its discipline and organization. Mastering the

phalanx with its arrangements of long pikes, Alexander's army swept through Persian forces.
The four major battles that Alexander fought were the following:
Battle of the Granicus 334 BC
Battle of Issus 333 BC
Battle of Gaugamela 331 BC
Battle of the Hydaspes 326 BC

Again the previously posted map on which you can see the locations of these four important battles.

The Conquests of Alexander the Great 336-323 BC
More details on these and Alexander's other battles below, starting with the year 338 BC.
The Battles of Alexander the Great
In 338 BC, and alongside his father Philip, Alexander fought in the

Battle of Chaeronea.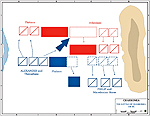 Map of the Battle of Chaeronea 338 BC
Thanks to his father, Macedonia had become a dominant power in Greece by the time he succeeded to the throne in 336 BC.

After becoming king of Macedonia, Alexander gained several victories over the northern barbarians who had attacked Macedonia, and destroyed Thebes, which, in con