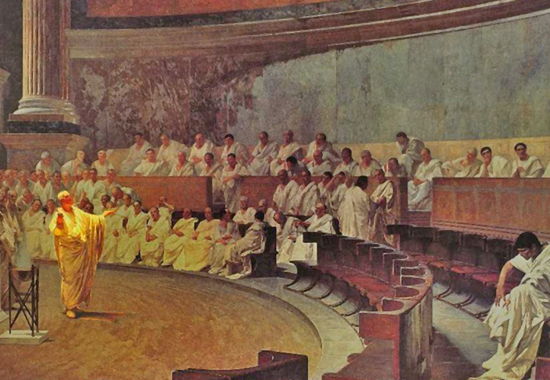 CICERO DELIVERS HIS SPEECH AGAINST CATILINE - 63 BC

Browse the Speech Archive
A lot of people said a lot of things throughout history. Some of the countless lectures, sermons, talks, discourses, and addresses have been preserved.
In this speech archive you will find transcripts of great and famous speeches in history.

Some speeches have an additional audio track, some have a video clip.

Let's kick off with a Cicero quote:

Nemo umquam neque poeta neque orator fuit, qui quemquam meliorem quam se arbitraretur.
In other words,
No poet or orator has ever existed who thought there was another better than himself.
End quote.
Image Above
Cicero addressing the Senate. Cell phone snapshot by Cesare Maccari.
The Speech Archive
This speech collection is indexed alphabetically by topic, alphabetically by speaker, chronologically, and then some.