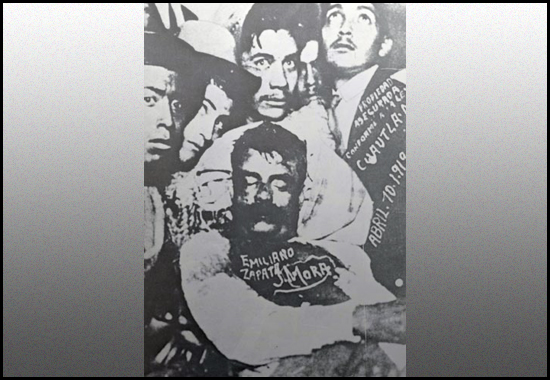 EMILIANO ZAPATA ASSASSINATED
Mexican History 1919

Mexican Revolution Timeline - Year 1919


Late February 1919


Zapata has to retreat from Jojutla. He moves first toward Jonacatepec, and then toward Tochimilco.

March 17, 1919


Zapata sends a letter to

Venustiano Carranza, "who I believe must be moved sometimes, if only for an instant, by the anguish of mothers . . . "you have tried to convert the revolution into a movement for your own gain . . . "It has never crossed your mind that the Revolution was for the benefit of the masses."
Still military stalemate in

Morelos.

Mid-March 1919
Jesús Guajardo, a colonel in the federal army, quarrels with his commander,

General Pablo González. Gonzalez found Guajardo drinking at a local cantina after he had been ordered into the hills around Huautla to hunt Zapatistas. Guajardo gets arrested. Zapata's spies report this back to

Zapata.

March 21, 1919


Zapata writes a letter to Jesús Guajardo and encourages him to defect.

March 30, 1919


General Pablo González' lucky day. He intercepts the letter from

Zapata to Guajardo, calls Guajardo a traitor and tells him that the only chance to save his neck was to set up a trap for Zapata.
Guajardo agrees and writes back to Zapata that he is ready to defect.

April 1, 1919


Zapata sends a letter back to Guajardo and asks him for a revolt on Friday, April 4. Guajardo replies right away. He agrees but asks for more time.

April 7, 1919


Zapata orders rebel attacks to divert federal attention.

April 8, 1919
Guajardo revolts in Cuautla and marches out with his men.

April 9, 1919
Colonel Jesús Guajardo, commander of the 5th Regiment, reaches Jonacatepec, occupies the town in Zapata's name.

Zapata waits a few miles south at Pastor Station. A messenger brings Zapata the news of Guajardo's recent moves. Zapata sends a message to Guajardo, telling him he must meet him with only 30 men.
4.30 PM - Guajardo arrives, bringing with him 600 troops instead of the requested 30. Together, Guajardo and Zapata ride south two miles to Tepalcingo.
Later that night - Guajardo requests permission to return immediately to Chinameca Hacienda, ten miles east, claiming he wants to protect his stores of ammunition stacked in the plantation buildings. Zapata agrees to meet Guajardo at Chinameca early the next morning to discuss the next step.
Guajardo leaves. Soon after, Zapata rides out to spend the night in the nearby hills.

April 10, 1919
With about 150 additional men,

Zapata rides toward Chinameca.
8.30 AM - Zapata meets Colonel Jesús Guajardo at the Hacienda of San Juan Chinameca in