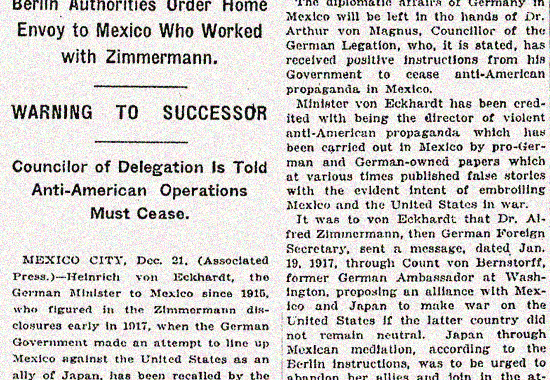 MEXICO'S ROLE IN WORLD POLITICS
Mexican History 1918

Mexican Revolution Timeline - Year 1918

February 1918

Emiliano Zapata sends a number of proposals to Venustiano Carranza but Carranza refuses even to respond.

William E. Gates, an American archaeologist, arrives at Zapata's headquarters at Tlaltizapán.

Gates advises Zapata to get things straightened out before the U.S. gets their

focus off the

Great War and back towards Mexico. If by then Mexico would still feature internal struggle, America would be ready to seize the nation's sovereignty.

April 25, 1918


Emiliano Zapata issues a manifesto to all Mexican People, trying to rally all types of revolutionaries, but without success.
Bad harvest in 1918.
Zapata becomes dark, irritable, and grumpy.

Mid-August 1918


Emiliano Zapata writes to the retired

Alvaro Obregon and urges him to declare opposition to

Venustiano Carranza. Zapata issues a leaflet titled A Toast To Álvaro Obregón. Heck knows if and what Obregon replied.

November 11, 1918


The Great War is officially over.

November 21, 1918
Another day of correspondence for

Emiliano Zapata. He writes to

Felipe Ángeles, who is exiled in Texas, and asks him if he would use his intimate friendship with Field Marshal Foch, the French commander, to win "powerful moral influence" for the Revolution?

Mid-December 1918


General Pablo González resumes his

Morelos offensive. Over 11,000 troops march into Morelos' major towns where they find the peasants mostly fled or dead. The

guerrillas took to the hills once more.

Felipe Ángeles comes back from voluntary exile in El Paso, TX, and joins

Pancho Villa's outfit.

Winter 1918 / 1919 is a tuff sucker. The Spanish influenza sweeps south from Mexico City and leaves a death rate of 42 per 1,000.

Zapata's army gets reduced by half.
More History