Francisco León de la Barra 1863-1939


Francisco León de la Barra was president of Mexico from May 25, 1911 - November 5, 1911.
He was dictator

Porfirio Diaz' foreign secretary and became interim president when

Francisco Madero et al forced Diaz to resign.

Francisco León de la Barra was born in Querétaro City, Querétaro, Mexico, and he died in France.
Francisco came from an aristocratic background. Some say he was not strong enough for the challenges of his days.
Here it all happened, here are the maps

Map of Morelos State, Mexico
Click to enlarge

Map of Mexico and the State Morelos
Click to enlarge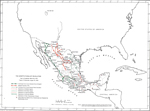 MEXICAN REVOLUTION
Click map to enlarge
See also

Mexican Governments.
More Info Related to Francisco Leon De La Barra
More History