PORFIRIO DÍAZ
1830 - 1915

When it Takes a Revolution to Bring You Down
Porfirio Díaz was the president of Mexico from 1877 - 1880 and again from 1884 - 1911. In actual fact, the man was Mexico's dictator for 34 years. His regime is also referred to as The Porfiriato.
Porfirio Díaz had everything under firm control to such a spectacular degree that it sparked the Mexican Revolution when he announced his intention to retire.

In 1908, Díaz told James Creelman, a US reporter, that Mexico was ready for democracy and that he was prepared to retire in the year 1910, at the end of his presidential term.


Source: Check out the

Creelman Interview.
People went berserk and started fighting for Díaz' succession. But did the man just make the entire thing up so that his opposition would surface and he could root it out? Or was Díaz really ready to pack his bundle and abandon his throne?
And a throne it was.

PORFIRIO Díaz IN A HUGE CHAIR
Creelman Interview


PORFIRIO Díaz - Mexico's dictaor of 34 years
Creelman Interview


People quickly found out that Diaz was still his old nasty self, when they tried to vote for a new governor of

Morelos in February 1909.
Porfirio Diaz sent his candidate into the race. His name was

Pablo Escandón y Barrón. Of course Diaz' nominee was a rich hacienda owner. The opposition candidate was Patricio Leyva, an engineer, and the son of General Francisco Leyva.
However, the people of Morelos could sniff the wind of change. Opposition groups emerged everywhere. More and more, people dared to voice their dissatisfaction and organized themselves into groups and clubs.
The response from plantation owners and government was just as expected - strong and brutal. They ordered the people to disperse. First they warned, then they threatened with transportation to labor camps, and finally they followed up with beatings and arrests.
On September 15, 1910, Diaz celebrated his 80th birthday. Did that slow him down? Not in the least. Some people have to be dead to lose their edge.
When President Diaz finally resigned in 1911, Mexico had still nine long and wicked years of revolution ahead of her.
Go here for the

Mexican Revolution Timeline.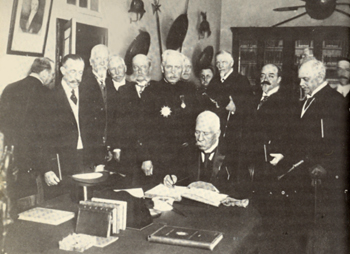 PORFIRIO DÍAZ SIGNING IMPORTANT STUFF
Archivo Cassola



President Porfirio Díaz' Staff
Diaz' able Secretary for Finances was

José Yves Limantour. His Secretary of Foreign Relations was

Enrique C. Creel. Vice president from 1904 - 1911 was

Ramon Corral.
Many members of Diaz' team were also members of the

Cientificos.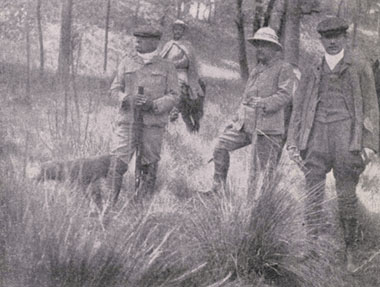 PRESIDENT DIAZ HUNTING IN THE MOUNTAINS
Creelman Interview


Porfirio Díaz' Background
Porfirio was a Mixtec Indian but also had some Spanish ancestors. He was born in the town of Oaxaca.
Diaz was a career soldier and became a brilliant general. On April 30, 1889, the Minister of France stopped by and the insignia of the Legion of Honor was conferred to him by the French government.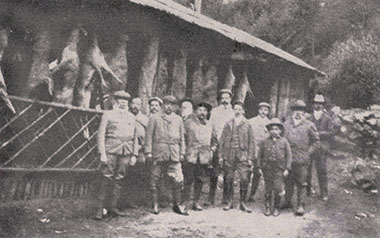 PORFIRIO DIAZ (RIGHT) BACK FROM HUNTING
Creelman Interview

Porfirio Díaz' Señoras and Kids
On April 15, 1867, Porfirio Diaz married his niece, the daughter of his sister Manuela. Her name was Delfina Ortega y Reyes. Delfina died on April 8, 1880. Delfina gave birth to 8 children, only two of them survived: Porfirio Jr. and Luz Aurora Victoria.

The attempt at a ninth birth was made on April 2, 1880, at which point Delfina conked out for good.
On November 5, 1881, 51-year-old Porfirio Diaz married 17-year-old María Fabiana Sebastiana Carmen Romero Rubio y Castelló. They honeymooned in New York of all places but didn't get any children out of their marriage.

DIAZ' SPOUSE CARMEN ROMERO RUBIO
1864 - 1944
Creelman Interview

And then there was Amada, another child from another woman in the 1860s.
So, all in all Porfirio had three children: Luz, Amada, and Porfirio Jr.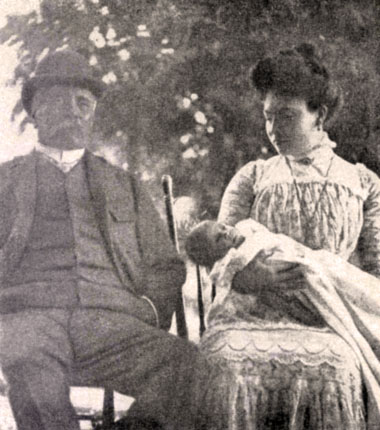 DIAZ WITH ONE OF HIS DAUGHTERS AND A GRANDSON
Creelman Interview

Porfirio Diaz' nephew was

Félix Díaz.
Porfirio Díaz' Presidency
On October 16, 1909, Diaz met US

President Taft on the US/Mexican border for a chat. The

Diaz-Taft Meeting was the first meeting between the presidents of the two countries.
Dictator Diaz resigned May 25, 1911.
Check the entries in the

timeline of the Mexican Revolution.

Porfirio Diaz' Short Biography


September 15, 1830

Birth in Oaxaca, Mexico

1846 - 1848

Fights in the Mexican-American War

1849

Studies law at the Instituto de Ciencias y Artes de Oaxaca, the Institute of Sciences and Arts of Oaxaca, where he became a student of Benito Juárez.

November 1876

Battle of Tecoac
Diaz defeats the government forces and decides to become the government himself on November 29, 1876.

1877 - 1880

President of Mexico

1884 - 1911

President of Mexico

February 17, 1908

Creelman Interview

July 2, 1915

Death in Paris, France
See also

Mexican Governments.
More History