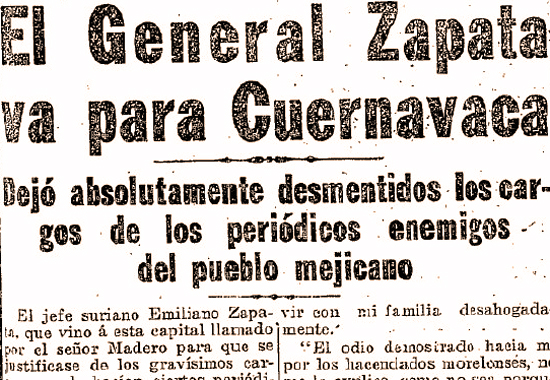 ZAPATA RETIRES
Mexican History 1911

Mexican Revolution Timeline - Year 1911

First Week of February 1911

Pascual Orozco and his Chihuahuas attack Ciudad Juárez, where approx 500 federal troops are stationed. They had an agreement with Francisco I. Madero, who was still in Texas at the time.

The idea was that Madero and his men would come back into the country as soon as Orozco and his men had Ciudad Juárez under control.

However, the Mexican government had sent reinforcements direction north and they defeated Orozco upon his attack and forced him to flee.

February 4, 1911
The federal 10th regiment led by Colonel Antonio Rábago leave Casas Grandes by train to aid their comrades in defending Ciudad Juárez.
They get as far as Bauche station where the rebels had cut off the rails, resulting in the First Battle of Bauche.
Pascual Orozco and his revolutionaries fought the feds this afternoon and night.
Oscar Merrit Wheelock, aka Captain Oscar G. Creighton, might or might not have been directly responsible for the disrupted tracks. You can read more about

The Dynamite Devil on Rick Sullivan's site.

February 5, 1911
Second and last day of the First Battle of Bauche. Rabago and his team abandon the train and continue their journey inland and make it to Ciudad Juárez.

February 7, 1911
Gabriel Tepepa and Lucio Moreno start their revolution but their timing was awful. After a quick initial success, their movement got stuck in the hills because nobody was really ready to run with them. Zapata didn't chime in because he was still waiting for Torres Burgos to come back from his

Madero mission.

Battle of Smelter View -

Pascual Orozco and his men are fighting near El Paso / Juarez at the Rio Grande river banks.

Mid February 1911
Torres Burgos returns at last.

Emiliano Zapata and his men had sent him to meet with

Francisco I. Madero, to check the man out and his intentions. Zapata wanted to make sure Madero was no flake and that Madero was worth risking lives for.
Torres Burgos reported a thumbs up and the revolutionaries got organized: Zapata was made colonel. Patricio Leyva was made chief revolutionary. Torres Burgos was made chief revolutionary number two, in case something happened to Patricio.
The new idea of the Zapatistas was to start the revolution in Villa de Ayala and then go south, instead of north. Don't take on the north until the south was lined up. Also: Gabriel Tepepa, a potential rival, had to be won over.

February 14, 1911
President

Porfirio Díaz put some pressure on the American government, who then issued an order for