US AMBASSADOR TO MEXICO MIXED UP IN MADERO KILLING
Mexican History 1913

Mexican Revolution Timeline - Year 1913

February 9 - February 18, 1913

The Ten Tragic Days overthrow Francisco Madero, bring Victoriano Huerta to power, and leave Mexico City in ruins.



February 19, 1913

Victoriano Huerta is the new president of Mexico.

February 22, 1913


Francisco Madero and José Pino Suárez are shot while transferred from one prison to another. The official version is that they had been shot during an attempted rescue by Maderistas. Unofficially it was on Huerta's orders.
Patricio Leyva, the elected governor of

Morelos, resigns.

February 24, 1913


Francisco Madero and José Pino Suárez buried.

February 27, 1913


Emiliano Zapata sends a note to

Genovevo de la O, advising him to "attack the enemy as often as he presents himself."

March 1913


Emiliano Zapata sends a note to

Victoriano Huerta, informing him that the rebellion continues.

Venustiano Carranza emerges as a new anti-Huerta rebel leader in the north.
Huerta decides to reactivate

Juvencio Robles and to pull him back out of retirement. Huerta declares martial law in the southern states.

March 4, 1913
President

Woodrow Wilson becomes 28th president of the United States.

March 13, 1913


Pancho Villa and a small group of like-minded folks cross the border from Texas to Mexico.
Battle of Nogales, Sonora. Approx 400 federal troops, led by General Emilio Kosterlitzky looked 2,000 rebels, led by General

Alvaro Obregon, deep in the eye and decided to give up. The Federals lost four men, five wounded, five taken prisoner. The rebels lost six men and nine wounded. Instead of surrendering to the rebels, the Federals crossed the border and handed their arms over to Captain Cornelius C. Smith Sr of the US 5th cavalry.
During the following days,

Venustiano Carranza, Alvaro Obregón, and Pancho Villa prepare their campaigns.

Pascual Orozco returns to Chihuahua to continue the fight there.

March 14, 1913
Dictator

Victoriano Huerta reveals to an American ambassador that up to 20,000 people from

Morelos are scheduled for relocation into labor camp at Quintana Roo.

March 26, 1913


Venustiano Carranza comes up with his

Plan of Guadalupe and initiates his Constitutionalist Revolution. And here is the map: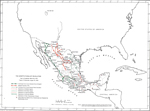 THE CONSTITUTIONALIST REVOLUTION
Click map to enlarge
Sometime between March and April 1913


Pascual Orozco defects to

Victoriano Huerta. And here you can see them hugging.

OROZCO HUGS HIS NEW FRIEND HUERTA
Mexican History 1913

April 14, 1913


Juvencio Robles returns to Cuernavaca and sends the elected deputies of

Morelos to the Mexico City jail.

April 17, 1913


Juvencio Robles assumes full power in the

Morelos state capital Cuernavaca. Former governor of Morelos, Patricio Leyva had resigned previously. See February 22, 1913.