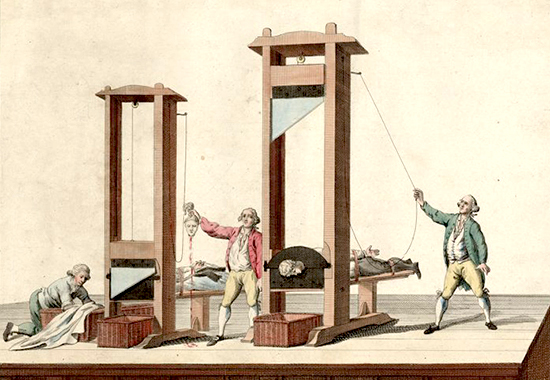 For Those Who Read Instruction Manuals: Before and After

The Guillotine
The

French Revolution introduced many new concepts and designs. Some were kept, some were forgotten.
One of these new ideas was the guillotine, and it was definitely a keeper.


Image Above
Egte afbeelding van de guillôtine te Parys

Authentic image of the guillotine in Paris.

Print, Amsterdam (?), 1795.
Public domain.

Bibliothèque nationale de France, département Estampes et photographie

In fact, in France, the guillotine was in use from 1792 until 1981.
It was a great success and adopted by other European states. Even Greece and Hanover had one.
Why Was the Guillotine Invented?
The guillotine was invented to make capital punishment a humane experience, as opposed to the horrors of the tortures of the wheel or the stake, the unreliable beheading by sword, or the infamy of hanging.
But there was another revolutionary aspect to it, and that was equality of the death penalty. Beheading, usually by sword, was considered a privilege and reserved for the nobles. The average criminal was hung or worse.
With the introduction of the guillotine came the abolition of privileges on death row.
The Device
The guillotine was a device for decapitation, invented to execute capital punishment as swiftly and as neatly as possible.
The apparatus separated head from body by a heavy blade that fell down between two upright posts that were joined by a crossbeam.
Similar Instruments
Beheading had been a popular way of execution since people could carry sticks. In time, decapitation typically involved swords, axes, or hatchets of sorts.
Inventing a contraption for the purpose was the logical next step. In England, there was the Halifax Gibbet, for example.