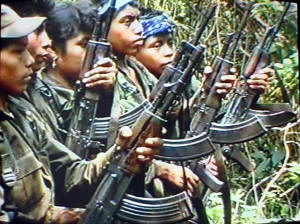 GUERRILLA WARFARE
Guerrilla Warfare

PRONOUNCE GUERRILLA

Guerra is Spanish for war. Guerrilla is small war.
As opposed to conventional, usually larger, military units, guerrilla warfare is a bit more flexible. You are fighting in small units, sometimes even all by yourself.
Who Came Up With the Expression?
The term guerrilla caught on during the

Peninsular War, during which Spanish fighters drove

Napoleon crazy.
Famous Guerrillas
Among them were

T.E. Lawrence, aka Lawrence of Arabia,

Pancho Villa,

Emiliano Zapata,

Mao Zedong, Ho Chi Minh,

Pol Pot,

Fidel Castro, and

Che Guevara.
What Tactics Work Against Guerrillas?
Your aim would be to separate the guerrillas from one of their main assets — the general population. How to do that? You shift the people into areas where they can be better supervised and controlled, i.e. camps or "pacified" hamlets.
Anyone outside can thereafter be shot on sight.
So it was done in Mexico,

see example here, in South Africa and Malaya by the British, and in Vietnam by the Americans.
Guerrilla Trivia
La Guerrilla is also a 1972 movie, if you wanna brush up on your Spanish.

LA GUERRILLA
1972
More History