Marie-Antoinette 1755-1793
Marie-Antoinette's full name was Marie-Antoinette-Josèphe-Jeanne d'Autriche-Lorraine.
Image Above

Marie-Antoinette of Austria, Queen of France

Oil on canvas 113 x 87 cm by Marie-Antoinette's friend, Élisabeth Vigée-Lebrun

Direction des Musées de France


In German, Marie-Antoinette's name was Maria Antonia Josepha Joanna von Österreich-Lothringen.
Marie-Antoinette's Family
Marie-Antoinette's father was Holy Roman Emperor

Francis I.
Her mother was

Maria Theresa.

In 1770, Marie-Antoinette married Louis, who, in 1774, became French King

Louis XVI.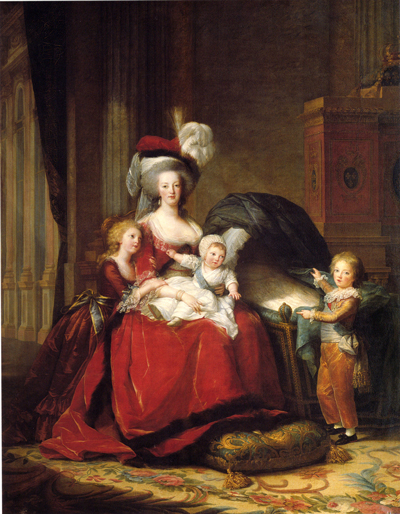 Marie-Antoinette and Her Children
Oil on canvas by Élisabeth Vigée Le Brun, 1787
The children left to right: Marie-Thérèse, Louis-Charles, and Louis-Joseph
In the crib: presumably Sophie-Beatrice
Versailles


See also

The Family of Louis XVI

Marie-Antoinette's Life
Marie-Antoinette had the reputation of being extravagant, which was partly justified because the girl felt right at home wherever luxury resided. But of course, all the rumors, mini-conspiracies, and intrigues at the French court blew it out of proportion. Remember people didn't have TV back then.


In 1785, yet another drama, the Affair of the Diamond Necklace, had been created. In a nutshell, the Comtesse de La Motte wanted to possess a certain exceptional diamond necklace which she couldn't afford. What to do, what to do.
The Comtesse told the Bishop of Strasbourg that Marie-Antoinette wanted him, the Bishop, to secretly purchase the necklace for her, Marie-Antoinette.
The entire affair was discovered, the involved individuals punished. But the general public, the ones who actually had to work for a living, wasn't and weren't thrilled.


Although Marie-Antoinette's response to the news that the people ran out of bread, "Let them eat cake!" is an invention, it shows what the people thought of her.

Long story short, in 1792 the Revolutionaries tried Louis and Marie for treason and executed the two; Louis on January 21, 1793, Marie-Antoinette on October 16, 1793.
Welcome to the

French Revolution.

Marie-Antoinette
And this is EXACTLY how it happened: (To get the gist, scroll to 5:45)
More History