Frederick Josias of Saxe-Coburg-Saalfeld 1737-1815
For the Germans, Frederick was Prinz (Prince) Friedrich Josias, Herzog (Duke) von Sachsen-Coburg-Saalfeld.
In short and in English, Prince of Coburg.

Or Frederick Josias.

Image Above

Frederick Josias of Saxe-Coburg-Saalfeld 1737-1815

Engraving by unknown artist

Wiki


Frederick Josias was a general in the Austrian army, and the most successful military commander the House of Saxe-Coburg had produced. As such, he became well-known for his determination, courage, and prudently executed strategy.
The good people of Coburg best remember him for his protection of their city against Napoleon's army in 1806.
Frederick Josias' Family
Frederick's father was the Duke Francis (Franz) Josias of Saxe-Coburg-Saalfeld. His mother was Princess Anne Sophie (Anna Sophia) of Schwarzburg-Rudolstadt.
Frederick Josias was their third and youngest son, born on December 26, 1737 at Ehrenburg castle in Coburg. Here is a photograph: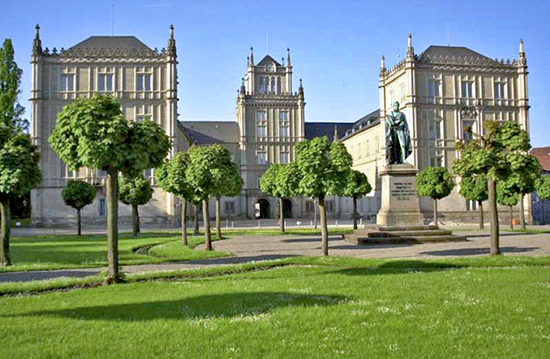 Ehrenburg Castle, Coburg, Germany
Photo: Frankenradar

Upon completion of its construction in 1547,

Emperor Charles V decided to call this palace Ehrenburg (Honor Castle) because the building was erected without forced labor.
Back to Frederick Josias.
In 1755, he visited his sister Charlotte Sophie and her husband in Mecklenburg.
He then traveled to Vienna where he lived with his sister Friederike Caroline.
Frederick Josias' Career
On January 4, 1756, 19-year-old Frederick Josias entered the Imperial Austrian Cuirassier Regiment Number 33 "Anspach" as cavalry captain. His unit was stationed at Ödenburg (Austrian Empire, today's Sopron in Hungary.)
Third Silesian War (1756-1762)
The

Third Silesian War was part of the

Seven Years' War. Austria and Prussia fought over Silesia.
Here is the map. Frederick Josias' hometown Coburg is in square C-II.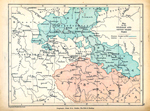 1740-1763 Map for the Silesian Wars and the Seven Years' Wars
Click to enlarge.
On October 1, 1756, Frederick Josias fought in the Battle of Lobositz, which ended with a draw.
On May 6, 1757, he fought in the Battle of Prag, which ended with a Prussian victory.
On April 1, 1758, he was promoted to lieutenant colonel.
On October 14, 1758, Frederick Josias fought in the Battle of Hochkirch, in Saxony. During battle he was wounded but fought until the enemy was beaten. The Austrians defeated the Prussians.
On January 13, 1759, twenty-one year-old Frederick Josias was promoted to colonel.
On June 23, 1760, he fought in the Battle of Landeshut (today's Kamienna Góra in Poland.) Austrian victory.
On August 15, 1760, he fought in the Battle of Liegnitz, in which the Austrians were defeated
After this war, in 1766, he was promoted to major general.
He made Field Marshal-Lieutenant in 1773.
From 1778 until 1786, he was General Commander in Pressburg (today's Bratislava in Slovakia.)
On August 22, 1786, he became Commander General of Galicia and Bukovina.
Russo-Turkish War (1787-1791)
The Austrians allied with Russia. Thus, Frederick Josias found himself fighting in the

Russo-Turkish War of 1787 alongside the Russians against the Turks. In fact, he was commanding an army of 300,000, which he led into Turkish Moldavia from the west in support of Russia.
In 1788, he arranged for the Siege of Chocim, also spelled Khotin or Chotin, today's Khotyn in the Ukraine. The siege lasted three months, from July 2 until September 19, 1788, after which the city fell.
Frederick Josias then marched on and took Jassy, which is today's Iasi in Romania, and was back in the days the capital of Moldavia.
On July 30, 1789, he fought in the Battle of Focsani (Focksan, Fokshany, today's Foçsani, Romania.) In this battle, Frederick Josias joined forces with the Russian general

Aleksandr Suvorov, and his army of 60,000. Russian victory.
On September 22, 1789, he fought in the Battle of Martinesti. Huge Russian victory and a nice badge, the Military Order of Maria Theresa, for Frederick Josias. Here is the good piece: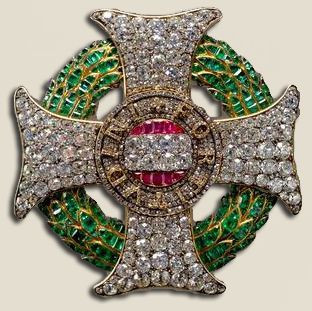 Military Order of Maria Theresa
Großkreuz des Militär-Maria-Theresien-Ordens
© Kunsthistorisches Museum Vienna
This one here, by the way, is the very one Count Radetzky had received in 1854.
The Order of Maria Theresa is not only a very valuable brooch, but also comes with a nice pension for the rest of your days.

And here is the map at the end of the Russo-Turkish war of 1787:

In 1791, Frederick Josias returned home to Coburg where he was now a celebrity.
He visited Rodach and Neustadt and, in 1794, decided to settle at Coburg. He acquired some property on the Bürglaß and built himself a humble retirement home. Today, this building is known as the Bürglaßschlösschen, the Little Palace on the Bürglaß.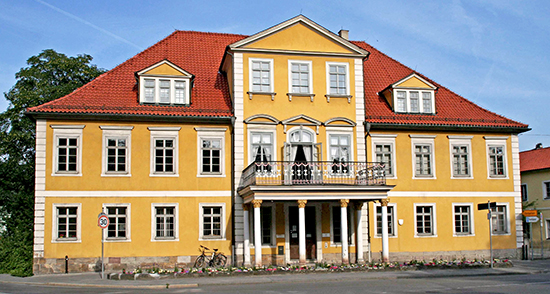 Bürglaßschlösschen Coburg
Photo: Störfix / Wiki
However, the Austrians couldn't do without him just yet.
After the outbreak of the

French Revolution in 1789, Europe was now at war.
French Revolutionary Wars (1792-1802)
In 1793, Frederick Josias was made commander-in-chief of the army of the Austrian Netherlands, more than half of which were Austrians. Holy Roman emperor

Francis II needed some oomph against the French.
On March 1, 1793, Frederick Josias won the

Battle of Aldenhoven and on March 18, 1793, he won the

Battle of Neerwinden. A few days, later on March 21, 1793, he won the Battle of Leuven, also called Louvain. Thanks to these victories, Austria was able to reclaim the Austrian Netherlands.
But in the end, Austria had to evacuate Belgium and the Netherlands. On June 26, 1794, the French won the

Battle of Fleurus. Frederick Josias opted for a clean cut and quit his job. His successor as commander-in-chief became General Clerfayt.
The Prince of Coburg returned to his hometown on September 11, 1794.
The good people of Coburg were thrilled to have him back and greeted him in front of the city's gates, after which they took their hero on a triumphal procession through town.
War of the Fourth Coalition (1806-1807)
The

War of the Fourth Coalition was part of the

Napoleonic Wars.
In October 1806, Napoleon's troops, led by French marshal Augereau, marched against Prussia and, on their way, made a pit stop at Coburg, then a Prussian ally.
All eyes on Frederick Josias, who met with Augereau and who, by means of skilled diplomacy and clever negotiations, managed to protect the city of Coburg from a thorough ransack.
Frederick Josias died on February 26, 1815 at Coburg.
On October 24, 1911, the city of Coburg erected a monument in his honor.
Here it is:

Friedrich Josias' Monument at Coburg, Germany
Photo: Michael Schlichting
More History