Charles V 1500-1558
Charles was a

Habsburg and the Holy Roman emperor from 1519 - 1558.
He was elected as Charles V upon the death of his paternal grandfather, emperor Maximilian I.
As Charles I, he was also the king of Spain from 1516 - 1556.
In addition and also as Charles I, he was the archduke of Austria from 1519 - 1521.
The guy Charles hated most was

Francis I, the king of France. With him, he fought part of the

Italian Wars.
Another person Charles came to know a little bit better was

Martin Luther. While busy fighting Lutheranism, he also clashed with the

Schmalkaldic League.


Charles' father was Philip I the Handsome, which was a great nickname and who was king of Castile.
Charles' mother was Joan the Mad.
Charles' maternal grandfather was

Ferdinand II the Catholic.
Charles' younger brother Ferdinand I succeeded him.
Charles' sister was Elizabeth of Habsburg, who married

Christian II, the king of Denmark, Norway, and Sweden.
The year 1556 saw the abdication of the Emperor Charles V.


Philip II becomes King of Spain, and

Ferdinand I Emperor of Germany.
This is the map of Germany at the accession of Charles V: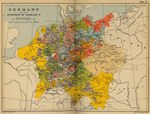 GERMANY 1519
Click map to enlarge


And here is a map of the wars of France and the Empire:

1521 France Eastern Border
Click map to enlarge


And this map shows the Dominions of Charles V in 1519: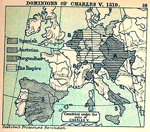 Holy Roman Empire 1519
Click map to enlarge
See also

Governments of Germany and

Holy Roman Empire.
More History