Frederick the Great 1712-1786
Image Above

Frederick the Great.

Click image to enlarge.


Just like JFK, Frederick II was a Berliner. He was born and died in Berlin. He was king of Prussia from 1740 until his death.
Fred was a great strategist, in peace and war.
He was an enlightened despot.
See also

Forms of Governments.
His father was Frederick William I. His mother was Sophia Dorothea of Hanover, who in turn was daughter of King George I of Britain.
Here is

Frederick the Great's timeline.
Frederick the Great was fighting the

Seven Years War against Austria, France, and their allies.
He attacked the Austrian dominions and conquered Silesia.

And here is a map of Frederick's campaigns: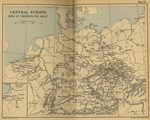 Central Europe 1740
Click to enlarge
Upon his death, Frederick's son became king as

Frederick William II.
See also

Governments of Prussia.
More History