Hannibal 247-183(?) BC
Hannibal was a witty Carthaginian general, which means his home town was

Carthage, or Carthago, as some people prefer to call it.

Pronounce CARTHAGINIAN


Pronounce CARTHAGE


Pronounce CARTHAGO


MAP OF CARTHAGE



Hannibal's Family
Hannibal's father was

Hamilcar Barca, also a general. Hannibal's brother-in-law was

Hasdrubal.

Hannibal's family was financially very comfortable, in fact,

they coined their own money.
Hannibal married Imilce, a Spanish princess.
Hannibal's Life
Hannibal started his military career on the Iberian Peninsula (Spain), in the Carthaginian prefectures. Hence the wife.
In 221 BC, Hasdrubal was assassinated and Hannibal obtained the command of the Carthaginian armies in Spain, being then twenty-six years old.
In 219 BC, Hannibal attacked the Spanish city of Saguntum, a city on the Ebro in alliance with Rome, which obviously didn't sit well with the Romans. They demanded Hannibal to be handed over and declared war on Carthage.
This war was the

Second Punic War, and was fought from 218 until 201 BC.

The last battle of the Second Punic War was fought in 202 BC. It was the Battle of Zama in which Hannibal faced

Scipio the Elder.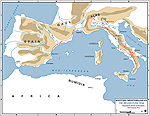 Map of Hannibal's Invasion Route 218 BC

Second Punic War 218 – 201 BC: Hannibal's Route of Invasion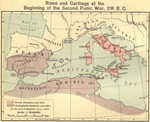 Rome and Carthage at the Beginning
of the Second Punic War, 218 B.C.
Click to enlarge

Map of Italy and Vicinity at the
Beginning of the Second Punic War 218 BC



After the Second Punic War and to escape the Romans, Hannibal fled to Ephesus, hoping for

Antiochus III's protection.
Antiochus sent Hannibal, a mountaineer, to fight the Romans at sea. Hannibal was defeated. And so was Antiochus in 190 BC at the

Battle of Magnesia. Again, the Romans demanded Hannibal to be handed over. This stipulation was put in writing, see the

Treaty of Apamea.

Hannibal managed to escape yet again and helped Prusias in his fight against Roman ally Eumenes II of Pergamum. Hannibal learnt from his naval experiences and this time he threw buckets full of snakes into the boats of the enemy and won his battle.
Hannibal's Death

Somehow the Romans had Hannibal finally in a corner. Rather than getting captured, Hannibal preferred to poison himself. He did so in Libyssa, close to today's Istanbul in Turkey.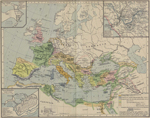 Map of Rome's Expansion 264-180 BC
Click to enlarge

2nd Century Expansion of the Roman Republic
Hannibal's Strengths
Adrian Goldsworthy, author of "The Battle of Cannae"
Hannibal was an immensely charismatic leader. Hel could get armies to do things that most men simply couldn't have dreamed of. Somehow an army with Hannibal in command could go that little bit further.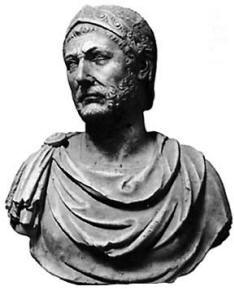 More History