Hannibal 247-183(?) BC
Hannibal was a witty Carthaginian general, which means his home town was

Carthage, or Carthago, as some people prefer to call it.

Pronounce CARTHAGINIAN






Pronounce CARTHAGE



Pronounce CARTHAGO




MAP OF CARTHAGE



Hannibal's Family
Hannibal's father was

Hamilcar Barca, also a general. Hannibal's brother-in-law was

Hasdrubal.

Hannibal's family was financially very comfortable, in fact,

they coined their own money.
Hannibal married Imilce, a Spanish princess.
Hannibal's Life
Hannibal started his military career on the Iberian Peninsula (Spain), in the Carthaginian prefectures. Hence the wife.
In 221 BC, Hasdrubal was assassinated and Hannibal obtained the command of the Carthaginian armies in Spain, being then twenty-six years old.
In 219 BC, Hannibal attacked the Spanish city of Saguntum, a city on the Ebro in alliance with Rome, which obviously didn't sit well with the Romans. They demanded Hannibal to be handed over and declared war on Carthage.
This war was the

Second Punic War, and was fought from 218 until 201 BC.

The last battle of the Second Punic War was fought in 202 BC. It was the Battle of Zama in which Hannibal faced

Scipio the Elder.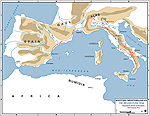 Map of Hannibal's Invasion Route 218 BC

Second Punic War 218 – 201 BC: Hannibal's Route of Invasion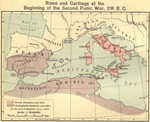 Rome and Carthage at the Beginning
of the Second Punic War, 218 B.C.
Click to enlarge