MAP OF CARTHAGE

Carthage
Carthage is an ancient city in today's Tunisia. It was founded in 814 BC by the

Phoenicians.
Its Latin name is Carthago. Its Phoenician name is Kart-hadasht, which means New Town.

Hannibal was a Carthaginian general. Those were the days. Today, Carthage is just a suburb of Tunis.

And about the pronunciation...

Pronounce CARTHAGINIAN


Pronounce CARTHAGE


Pronounce CARTHAGO

Another word associated with Carthage is Punic.

Punic, as a noun, was the Phoenician dialect of ancient Carthage.
As an adjective, Punic refers to anything of, or relating to, Carthage or the Carthaginians. If, for example, there was a pub owned or predominantly frequented by Carthaginians, you would refer to it as a Punic pub.

This also helps to understand who was involved in the

Punic Wars.
In AD 439, the

Vandals made Carthage their headquarters.
More maps:

Italy and Vicinity - Territorial Control 326 BC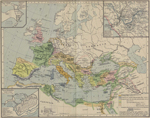 264 BC - 180 AD Rome's Expansion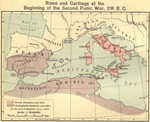 Rome and Carthage at the Beginning
of the Second Punic War, 218 B.C.
Click to enlarge

2nd Century Expansion of the Roman Republic
In 146 BC, Carthage was destroyed by the Romans, led by

Scipio Africanus the Younger.
And here is downtown Carthage on a map:

Carthage 146 BC - Click to enlarge
More History