Treaty of Apamea 188 BC
Seleucid king

Antiochus III the Great fancied an expansion of his kingdom.
But then he lost the

Battle of Magnesia in 190 BC and Rome made him sign the Treaty of Apamea, which ordered him to stay away from Europe and Asia Minor.
What Did the Treaty of Apamea Decree?
Also called the Peace of Apamea, the Treaty of Apamea obligated Antiochus III the Great to hand over his elephants, his ships (all but 10), and some hostages including Antiochus' son Antiochus IV and top soldier

Hannibal. In addition, Antiochus had to pay 15,000 talents.
Here is a map of Asia Minor after the Treaty of Apamea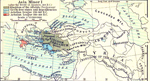 ASIA MINOR AFTER THE TREATY OF APAMEA
Click to enlarge
More History