Philip II of Macedon 382-336 BC
Philip II was Philip of Macedon.
He was the 18th king of Macedonia and ruled as such from 359 until 336 BC.

In 338 BC, and in spite of

Demosthenes' fiery speeches against him, Philip defeated the confederate armies of Athens and Thebes at the Battle of Chaeronea.
In this battle, Philip's son Alexander was in charge of the left wing. (see map below)
Partly because of the battle of Chaeronea, the Macedonian supremacy over Greece became firmly established. This would come in handy for future conquests. (see

Alexander III the Great)
Chaeronea, by the way, is located 75 miles or 120 kilometers northwest of Athens. And here is a map of the Battle of Chaeronea: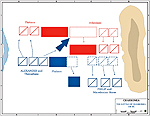 Map of the Battle of Chaeronea 338 BC
In 336 BC, Philip was assassinated, and his son Alexander III, later Alexander the Great, became his successor.
More History