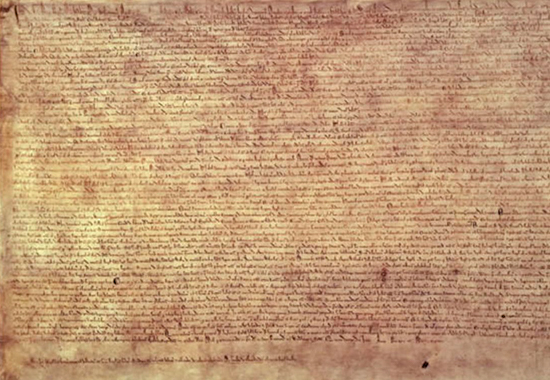 MAGNA CARTA

Magna Carta 1215
Magna Carta is Latin and means Great Charter.




What Makes Magna Carta so Special?

It holds the king accountable to the law. Magna Carta is the most famous document of English constitutional history. You can find the original, shown above, at the British Library in London.

Magna Carta was written in Latin and sealed by

King John of England in the year 1215.
Explore the original document.

Read the full English translation of Magna Carta.
Why Was Magna Carta Written?
Magna Carta was written to prevent misuse of power by the king. Obviously, King John didn't come up with this sort of document himself. Why did he approve of it anyway?
The Story Behind Magna Carta
King John owned land in France and the French wanted it back. After waging war with John, the French succeeded for the most part. Having lost this war and quite a bit of money, John made life a little harder for his subjects, for example by demanding very high taxes and by allowing his deputies to treat the people arbitrarily.
In January 1215, a group of English barons had had it. They demanded a guarantee for fair treatment from, and signed by, King John. To show that they meant business, the barons armed themselves and captured London in May 1215.
Thus threatened with civil war, King John reasoned correctly that negotiating was the idea of the day and met with the barons at Runnymede, a meadow by the River Thames, between Windsor and Staines.
Runnymede is located in today's county of Surrey. If you visit Runnymede, you'll find this memorial erected by the American Bar Association.

COMMEMORATING MAGNA CARTA IN RUNNYMEDE


Back to the year 1215.
On June 15, 1215, a draft, called the Articles of the Barons, was agreed upon and sealed by King John. The next few days were spent on refining the rough copy.
On June 19, 1215, the final document, Magna Carta, was completed.
In a Nutshell, What Does Magna Carta Say?
Magna Carta is a preamble and 63 clauses.
The clauses can be divided into nine groups, regarding:
1. church;

2. feudal law;

3. feudal law - subtenants;

4. towns, trade, merchants;

5. reforms of law;

6. behavior of governmental officials;

7. royal forests;

8. immediate issues, e.g. dismissal of John's foreign mercenaries;

9. ensuring the king is acting according to this agreement.
What Immediate Impact Did Magna Carta Have?
The barons were pleased and renewed their oath of allegiance to the king on the same day Magna Carta had been agreed upon — June 19, 1215.
However, as soon as he had arrived back home, King John picked up the phone and asked the Pope to revoke the agreement. The Pope took sides with the king.
The barons were outraged and made a couple of phone calls themselves. French knights came over in support of the English barons and civil war, also called the

<