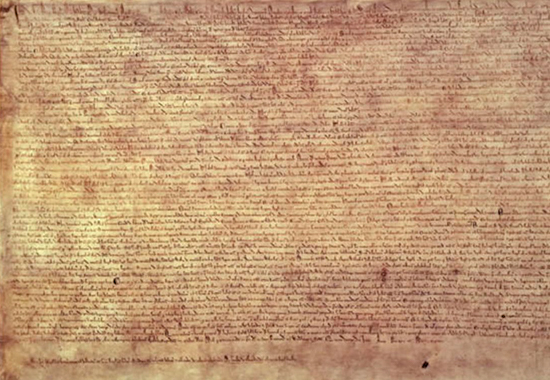 MAGNA CARTA

Magna Carta 1215
Magna Carta is Latin and means Great Charter.




What Makes Magna Carta so Special?

It holds the king accountable to the law. Magna Carta is the most famous document of English constitutional history. You can find the original shown above at the British Library in London.

Magna Carta was written in Latin and sealed by

King John of England in the year 1215.
Explore the original document.

Read the full English translation of Magna Carta.
Why Was Magna Carta Written?
Magna Carta was written to prevent misuse of power by the king. Obviously, King John didn't come up with this sort of document himself. Why did he approve of it anyway?
The Story Behind Magna Carta
King John owned land in France and the French wanted it back. After waging war with John, the French succeeded for the most part. Having lost this war, John made life a little harder for his subjects, for example by demanding very high taxes and by allowing his deputies to treat the people arbitrarily.