Explorers, Scientists & Inventors

Musicians, Painters & Artists

Poets, Writers & Philosophers

Native Americans & The Wild West

First Ladies

Popes

Troublemakers

Historians

Archaeologists

Royal Families

Tribes & Peoples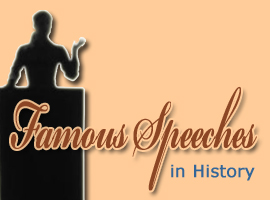 Assassinations in History
Who got slain, almost slain, when, how, why, and by whom?

Go to the Assassination Archive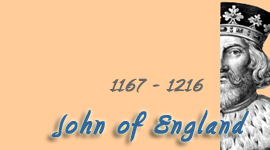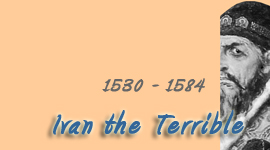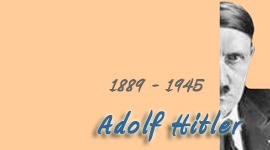 Online History Dictionary A - Z
All-Time Records in History
What was the bloodiest battle, the battle with the least casualties, who was the greatest military leader?

Go to Records in History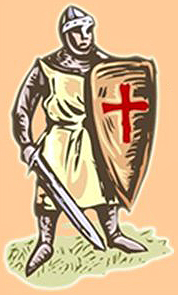 The Barons' Wars 1215-1217 & 1264-1267
The First Barons' War was fought 1215 until 1217.

Cause of the war was King John's refusal to act according to what he had agreed upon by signing the Magna Carta.

Controversy

Some may say Magna Carta was not voluntarily agreed upon by John and some clauses were outright unrealistic; that John had the barons up to the ears, and simply signed to get them off his back.

The First Barons' War Ensues

In any event, John refused to co-operate and the French sent over some knights to support the barons and their demands. The French found the timing perfect for Louis VIII, son of King Philip II of France, to rule England instead of John.

In 1216, Louis landed in Kent. John fled and Louis was proclaimed king.

Turning Point of the First Barons' War

In October 1216, King John died. Public opinion preferred John's son Henry III as king rather than French Louis VIII. Many barons felt the same way. Thus John's son Henry III became king in 1216 when he was nine years old. Louis VIII was not welcome to rule anymore.

New king Henry III later re-issued a revised Magna Carta, first in 1225 and again in 1264.
One of the decisive battles of the First Barons' War was the Battle at Lincoln on May 20, 1217. The barons were defeated and Louis had to agree to the Treaty of Kingston-upon-Thames of September 12, 1217. The treaty granted amnesty for the rebels and Louis had to promise to keep a low profile.
The Second Baron's War was fought 1264 - 1267. Simon de Monfort was the driving force behind the barons in this war. His family had come to England with

William the Conqueror in 1066.
Simon married Henry III's sister Eleanor and managed to become unofficial ruler for a short period of time.
In May 1264, the Battle of Lewes was won by Monfort. He captured the king and the king's heir. Another battle fought was the Battle of Evesham in 1265, in which Simon de Monfort died.
More History