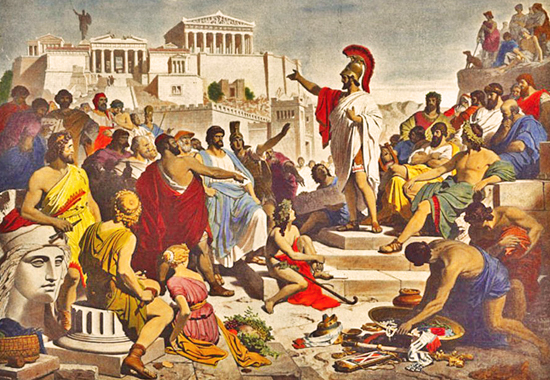 THE AGE OF PERICLES - PAINTING BY PHILIPP VON FOLTZ

Pericles' Funeral Oration

Go here for more about

Pericles.

Go here for more about

Pericles' Funeral Speech.
The painting at the top of this page shows Pericles delivering a speech on top of the Pnyx. His audience is the Who's Who of Athens at the time - contemporary poets, artists, and philosophers.
There is a modern day picture of the Pnyx in the Speech Archive. You can find it at

Demosthenes' Third Philippic. And here is a

map of the Pnyx.


Pericles' Funeral Oration is sometimes compared with

Lincoln's Gettysburg Address.

It follows the English translation of the full text transcript of Pericles' Funeral Oration, according to the Greek historian

Thucydides. Pericles delivered this speech in the year 431 BC.
To see this speech in context, you can also go directly to the source and read

The History of the Peloponnesian War, Book II, Chapter 6.

| | |
| --- | --- |
| | Most of my predecessors in this place have commended him who made this speech part of the law, telling us that it is well that it should be delivered at the burial of those who fall in battle. |
For myself, I should have thought that the worth which had displayed itself in deeds would be sufficiently rewarded by honors also shown by deeds; such as you now see in this funeral prepared at the people's cost. And I could have wished that the reputations of many brave men were not to be imperiled in the mouth of a single