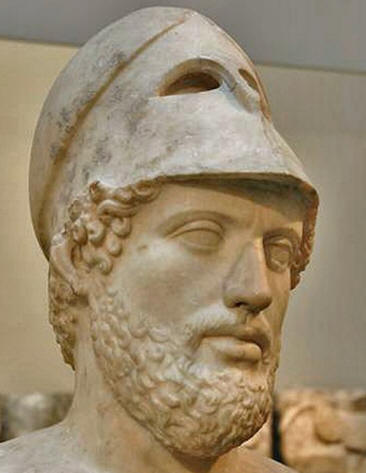 Pericles 495-429 BC
Pericles was a very powerful politician in ancient Athens.

Because of his leaning towards an alliance with Sparta,

Cimon the Younger was not a friend of Pericles. In fact, Pericles attempted to prosecute Cimon for having failed to conquer Macedonia. But Pericles was unsuccessful and Cimon went into exile.
The year? 463 BC.


Under Pericles, construction of the

Acropolis begun.
The year? 447 BC.
By the year 440 BC, Pericles had managed to become the sole director of the Athenian councils.
In 431 BC, the

Peloponnesian War broke out. After the initial battles were fought that year, and according to tradition, Pericles delivered a

Funeral Oration to honor the dead soldiers that had been killed so early in this war.
Ancient Greek historian

Thucydides recorded this speech and might or might not have edited it.
This Funeral Oration was Athens

Gettysburg Address. In fact, historians compared these two speeches many times. One similarity between them is the democratic ideal of both men,

Lincoln and Pericles. Both speeches were funeral orations. Both speeches were designed to inspire democracy. See for yourself.
Pericles' Family
Pericles' father was Xanthippus.
Pericles' mother was Agariste.
More History