Mikhail Gorbachev (born 1931)
If you ever need help dismantling communism, Mikhail Sergeyevich Gorbachev is your man.

Gorbachev was general secretary of the Communist Party of the Soviet Union from 1985 to 1991 and president of the Soviet Union from 1990 to 1991.

Gorbachev's

glasnost politics brought the Soviet Union down on its knees. He triggered the end of the

Cold War and openly supported the collapse of communism in eastern Europe.
By the way,

what exactly is communism?
On December 7, 1988, Mikhail Gorbachev delivered a speech before the 43rd session of the United Nations General Assembly, also called Gorbachev's

Freedom of Choice speech.
After the speech and still in New York, Gorbachev met with

Ronald Reagan and

George H.W. Bush at Governors Island. Bush commented on Gorbachev's speech:
"His address that day at the UN had been dramatic in both content and delivery, and it was obvious he loved the gamesmanship that went with an appearance there. It was an encouraging speech.

"Gorbachev had said that the threat or use of force should no longer be an instrument of foreign policy. He had promised to shift Soviet military doctrine to a more defensive stance and would unilaterally reduce their armed forces by 500,000 in two years, which, given their total size, was small but a good start.

"He also announced that several armored divisions would be withdrawn from Czechoslovakia, Hungary, and East Germany by 1991 and disbanded."


And here is the photo:

MIKHAIL GORBACHEV, RONALD REAGAN, GEORGE BUSH 1988


Non-communist people were delighted and gave Mikhail Gorbachev the

Nobel Prize for Peace. The year? 1990.
On December 10, 1990, Gorbachev had Andrej Kovaljov read his

acceptance speech. He did not show up himself because many of his comrades were furious.
But on June 5, 1991, he did pay the visit after things had calmed down a bit and finally gave his

Nobel Lecture.
Forty years earlier Mikhail was a cheerful driver in a combine harvester on a communist farm.
What had changed? Everything.

COMBINE HARVESTER IN ACTION
Gorbachev practiced a policy of openness, Russian: glasnost, which meant major economical and political reforms for the country. Now people were allowed to express their opinions and openly discuss governmental actions.
It followed a policy of restructuring, Russian:

perestroika, which meant that the time had come for communism to meet democracy and capitalism.


In 1987, Mikhail Gorbachev and Ronald Reagan agreed to destroy all intermediate-range nuclear missiles.
In 1988, Gorbachev pulled Soviet troops out of Afghanistan.
In 1990, Gorbachev agreed to the reunification of East with West Germany. The

Berlin Wall came down.
Go here for Reagan's

Tear Down This Wall speech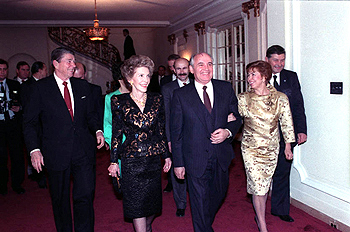 OFF TO DINNER:
RONALD, NANCY, MIKHAIL, AND RAISA
WASHINGTON, 1987

Consequently, parts of the Soviet Union were seeking independence. Avalanche-like, things happened with the quickness. The Soviet Union was dissolved the same day Mikhail Gorbachev resigned his presidency.



Boris Yeltsin kept the candle lit for Russia.
What Is Gorbachev Doing These Days?
On March 7, 2013, a 82-year-old Gorbachev told the BBC what he thought of President Vladimir Putin:
The common thread running through all of them [referring to the number of controversial laws passed in Russia since Mr. Putin's return to the presidency] is an attack on the rights of citizens.

For goodness sake, you shouldn't be afraid of your own people.

What people want and expect their president to do is to restore an open, direct dialogue with them. He shouldn't take offence at this. He should concentrate on trying to drag Russia out of the difficult situation that she is in.

[...]

Putin's entourage is the right one for him. He selected it and it works the way he wants it to. Even the inner circle, those by his side, there are so many thieves and corrupt officials there.

If things don't change, Russia will continue to drift like a piece of ice in the Arctic Ocean.
On March 30, 2013, Gorbachev delivered a speech at the RIA-Novosti news agency, further pointing out troubles under Putin's government:
The gap in incomes and living standards between the small mostly well-to-do stratum of the population and all the rest is unacceptably high.

Corruption has acquired a colossal scope.

MIKHAIL GORBACHEV BRIEF BIOGRAPHY
1931 Birth at Privolye, Stavropol kray, Russia, U.S.S.R.

1946 Joins Young Communist League

1952 Enters Law School at Moscow State University; joins Communist Party

1953 Marries Raisa Maksimovna Titorenko

1955 Graduates with law degree

1970 First secretary of the regional party committee

1971 Becomes member of Communist Party

1978 Secretary of agriculture of Communist Party

1979 Joins Politburo

1985 General secretary of the Communist Party

1988 Chairman of the Presidium of the Supreme Soviet

1990 President of the U.S.S.R.

1991, July - Signs START I

1991, August 19 - 21 - Put under house arrest by old-school communists; back to president duties right afterwards

1991, December 25 - Resigns as president of the Soviet Union
About Raisa Gorbachev
Raisa was born in Siberia. The year? 1932.

Raisa studied philosophy and became Russia's First lady. Thanks to Mikhail's glasnost policy Raisa made many public appearances. The West was delighted, the East not so much.

Raisa died of leukemia in Germany. The year? 1999.
GorbacheV CONTROVERSY
Mikhail Gorbachev might or might not have been involved in the attempt on the life of

Pope John Paul II in 1981. He said he wasn't.
In detail:
On May 13, 1981, Mehmet Ali Agca shot at Pope John Paull II in St. Peter's Square, Rome. The Pope survived. The Italians investigated and, in 2006, came to the conclusion that leaders of the former Soviet Union were behind the assassination attempt, and that it was blamed on the Bulgarian Secret Police.
(This and more in the book Just 2 Seconds by Gavin de Becker.)


See also

Assassinations in History

And maybe

American Timeline

More History