Taking Kinky to the Next Level: The Marquis de Sade

Donatien de Sade 1740-1814
In full, his name was Donatien-Alphonse-François, the Comte de Sade.
Or Louis-Aldonse Donatien, also called The Divine Marquis.

Image Above

Colombine checking on Lisette who might or might not have enjoyed a nightly visit from the Marquis de Sade. The pineapple is missing as well.

Let Them Eat Cake, 1999
French and Saunders


De Sade in a Nutshell
Donatien de Sade outraged his contemporaries by his sexual views, practices, and writings. He had such an impact on the subject that today's term sadism finds its roots with him.
De Sade's Family
His father was Jean-Baptiste-Francois-Joseph, Count de Sade. He died on January 24, 1767, at Montreuil, aged 65. His son, Donatien, was his sole heir.

De Sade's first wife was Renée-Pélagie Cordier de Launay de Montreuil, born at Paris, on December 3, 1741.
His three children by his first wife were two sons, Louis-Marie, Donatien-Claude-Armand, and one daughter, Madeleine-Laure.
Louis-Marie de Sade, was born at Paris, on August 27, 1767.

Donatien-Claude-Armande de Sade was born at Paris, on June 27, 1769.

Madeleine-Laure de Sade was born on April 17, 1771.
De Sade's Life — The Quiet Years
De Sade was born on June 2, 1740, at Paris, France. He was of noble birth.
In 1754 or 1755, de Sade joined the military and fought in the

Seven Years' War.
On May 15, 1763, and while in love with Mademoiselle Laure de Lauris, de Sade married Mademoiselle Renée-Pélagie Cordier de Launay de Montreuil.
De Sade's Life — The Scandal Years
On October 29, 1763, the King ordered de Sade to the fortress at Vincennes because of excess in a brothel which he had been frequenting for a month.
On November 13, 1763, de Sade was free to go, but the King stipulated that he had to stay at, and or in close proximity to, the château Echauffour, in Normandy.
In May 1764, the King made an exception and sent de Sade to Dijon on official business. In September, he officially revoked the orders regarding Echauffour. De Sade was again free to go wherever he pleased.

A December 7, 1764, police report reads that it was asked "to refrain from providing the Marquis with girls to go to any private chambers with him."

In 1765, de Sade's girlfriend was the actress Mademoiselle Beauvoisin.

On April 16, 1767, de Sade was promoted captain commander in the cavalry. On April 20, he left for Lyon.
The Rose Keller Affair
On April 3, 1768, de Sade met a certain Rose Keller. She accompanied him to his cottage and didn't enjoy the experience as much as he did. Rose escaped and told the authorities.
On April 7, 1768, de Sade's wife managed to get Rose Keller to accept a bunch of money in return for her dropping a bunch of charges.
But rumors persisted and eventually caused the Paris Council to take a second look at the evidence. On April 23, 1768, the Paris Council declared de Sade under arrest.
On April 30, 1768, de Sade was transferred from Saumur castle to Pierre-Encise prison near Lyons.
Interrogated on June 10, 1768, de Sade admitted to the allegations but claimed that Rose Keller liked it too.
On November 16, 1768, and per Royal Order, de Sade was again free to go. But it was recommended that he should retire to his castle at La Coste.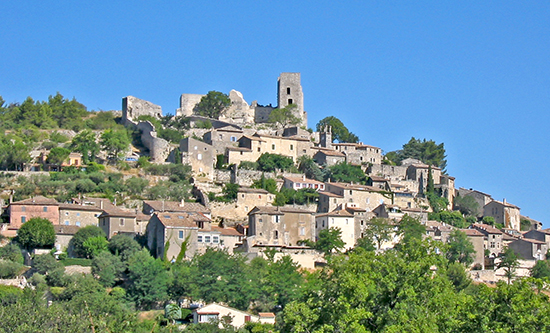 Ruins of Chateau Lacoste Today
Photo: ArjenW / Wiki
Brief Note on Lacoste
The small town of Lacoste, with 400 souls and located in the Vaucluse department, South of France, is overlooked by the ruins of the Chateau La Coste. Occupation at this address dates back to Roman times.
In 1716, Isabelle Simiane bequeathed the castle to her cousin, Gaspard François de Sade, Seigneur de Saumane et de Mazan, who was the grandfather of our hero, Donatien-Alphonse-François de Sade.
In 1766, de Sade began restorations and beautifications of the estate.
The chateau was pillaged during the

Revolution and afterwards sold to the Marquis de Rovère.
In 1816, Rovere's widow sold the château, by now a heap of ruins, to a farmer, Pierre Grégoire. Pierre, in turn, sold it to a local bricklayer, Jean Cyprien. The bricks of the castle became consequently part of many houses in the village.
From 1952 until his death, André Bouer, college professor, became the new owner and devoted his life to the castle's restoration.

In 2001, Paris fashion designer Pierre Cardin, born 1922, bought the castle.

After investing a heap of money, Cardin is hosting the annual Festival de Lacoste.


Pierre Cardin is the Proud Owner
of de Sade's Chateau
Photo: AFP / The Independent



In addition to the castle on the hill-top, Cardin bought, so far, more than 40 houses downtown. All in all, Cardin is said to have pumped over 30 million Euros into the Lacoste village, while getting the utter kick out of his little Project Provençal.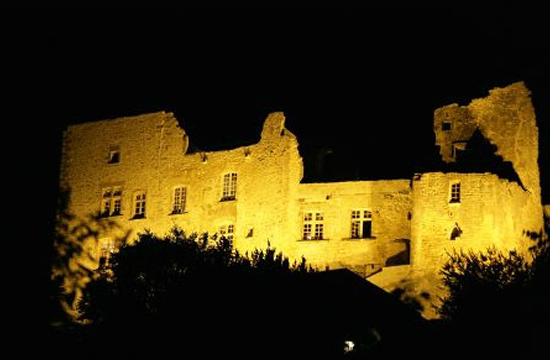 Chateau Lacoste
Photo: Pierre Cardin

Back to the life of the Marquis de Sade.
De Sade's Life From 1770
In August 1770, de Sade returned to his regiment in Burgundy.
On March 19, 1771, he was made colonel.
On September 9, 1771, de Sade left Fort l'Eveque prison, where he had spent a week for being in debt.
De Sade had written a comedy which was performed at the local theater at La Coste on January 20, 1772.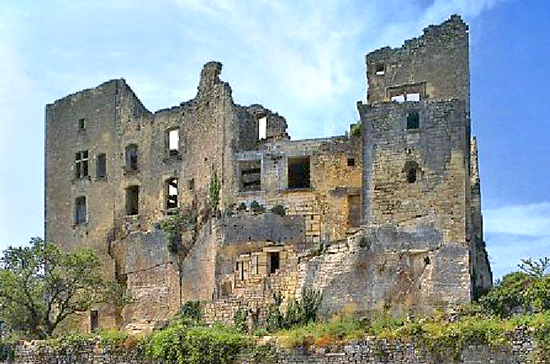 Chateau Lacoste
Photo: Pierre Cardin
The Marseille Disaster
On June 27, 1772, while on a visit to Marseille, de Sade enjoyed a party with his manservant Armand Latour and several girls, whom he offered free access to some goodies that contained cantharides, aka Spanish Fly, in other words dried bugs, but considered an aphrodisiac. The girls got sick and reported to the police that they had been poisoned.
On July 4, 1772, the Royal Prosecutor decreed the arrest of de Sade and Latour. They, in turn, fled town. Meanwhile, the pharmacists involved in the investigation didn't find any arsenic, neither in the candy box, nor in the former content of the girls' stomachs.
On September 3, 1772, de Sade and Latour were sentenced to death for sodomy and poisoning.
On the run, de Sade and Latour left Nice behind and arrived at Chambery on October 27, 1772. Traveling along was another man named Carteron and de Sade's sister-in-law, Lady Anne.
On December 8, 1772, de Sade and Latour were arrested at Chambery and transferred to Fort Miolans prison, thanks to Lady de Montreuil, de Sade's mother-in-law, who blew the whistle. De Sade's wife tried desperately to get them out of this mess.
On April 30, 1773, de Sade and Latour, together with another prisoner, escaped and made it to Grenoble.
On December 16, 1773, new court orders were issued for the arrest of de Sade, who in turn laid low for a while.
The Young Girls Scandal
In January 1775, de Sade made new headlines with the young girls scandal. Several young females had been hired as servants and things had gotten out of hand. Now the families of the girls started criminal proceedings from all directions.
On May 3, 1775, authorities informed de Sade's relatives that he (de Sade) "indulged in excesses of every kind with young people of both sexes whom he kidnaps."
Returning Home
In August 1775, de Sade was traveling across Italy under the name Count de Mazan, but he was itching to go home.
In June 1776, de Sade arrived at Grenoble, and on July 26, he was back at La Coste.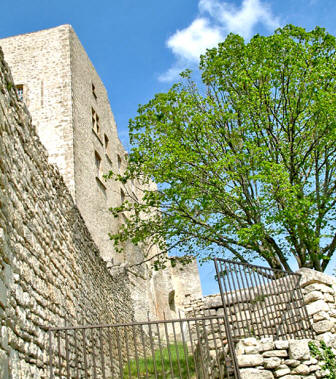 Château La Coste
Photo: Mairie & Office de Tourisme Lacoste

On January 14, 1777, Marie-Eléonore de Maillé de Carman, Dowager Countess de Sade, Donatien's mother, died at the Carmelite convent at Paris, aged 65.
On February 13, 1777, de Sade was arrested by Inspector Marais at the Hotel de Danemark in Paris. He was imprisoned at the Vincennes fortress.
On May 23, 1778, de Sade decided to plea for insanity before the High Court of Provence. Escorted by Inspector Marais, he left for Aix-en-Provence on June 14, and arrived on June 20, 1778. On July 14, 1778, de Sade was found guilty by the High Court of Aix for debauchery and excessive libertinage.
On their way to prison, de Sade and his travel companions spent the night of July 16, 1778, at Valence, where he managed to escape. He fled direction Avignon, then to La Coste again, which was a mistake.
On August 26, 1778, a mob forced de Sade's door and took him to Vincennes, where he arrived on September 7, 1778, again a prisoner.
On May 13, 1781, Lady Anne died. Smallpox.
On February 29, 1784, de Sade was transferred from Vincennes to the

Bastille. On March 8, 1784, de Sade wrote in a letter to his wife that the conditions at the Bastille were far worse than at Vincennes.
On May 25, 1787, Madame de Sade wrote to Gaufridy that "Monsieur de Sade is in fair health but getting very fat."
The Bastille logbook reads under July 2, 1789, that
"The Count de Sade shouted several times from the window of the Bastille that the prisoners were being slaughtered and that the people should come to liberate them."

On July 4, 1789, just shortly before the

Storm of the Bastille on July 14, 1789, de Sade was transferred to Charenton, an asylum for the insane. His wife was to fetch his belongings from his former cell, but the Revolutionaries did it before she got the opportunity.
De Sade was released on April 2, 1790. Madame de Sade informed him that she was seeking a separation.
In August 1790, de Sade connected with Marie-Constance Renelle.
In 1791, de Sade wrote his novel Justine.
In September 1792, a mob ransacked de Sade's chateau at La Coste.

Château La Coste
Photo: Mairie & Office de Tourisme Lacoste
On January 21, 1792,

Louis Capet, the King, was guillotined.
On December 8, 1793, de Sade was arrested at his house in Paris on the rue Neuve-des-Mathurins and taken to Madelonnettes, former convent now prison. This time around, the problem was a letter de Sade had written two years earlier.
On January 13, 1794, de Sade was transferred to the Carmelite convent on the rue de Vaugirard.
On January 22, 1794, de Sade was transferred to the Saint-Lazare prison where he had to stay at the prison hospital because he was sick. He was again free to go in October 1794.
De Sade was back in Charenton in 1801.
On December 2, 1814, de Sade died while still at Charenton.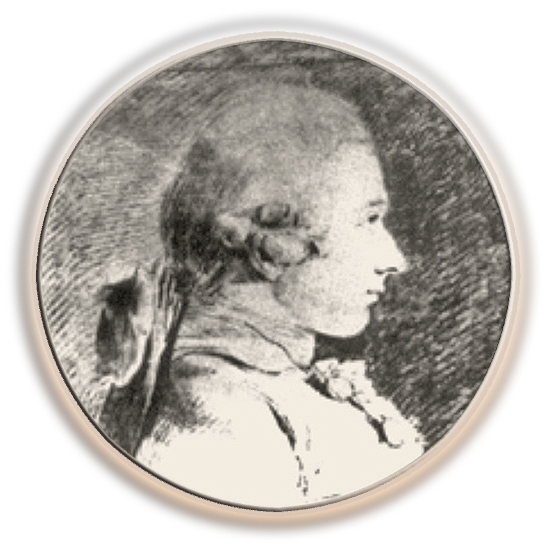 Donatien-Alphonse-François de Sade
De Sade's Works
Justine, ou les malheurs de la vertu
(1791)

Juliette
(1798)

La philosophie dans le boudoir
(1793)

Les crimes de l'amour
(1800)
More History