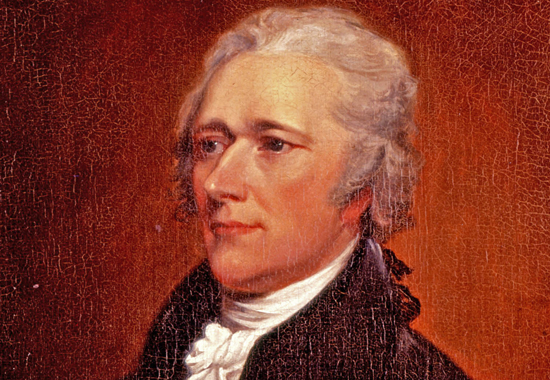 Alexander Hamilton 1755 (?) - 1804
Image above:

Alexander Hamilton.

Detail of an oil painting by John Trumbull, created post 1804.

New York Historical Society.
Alexander Hamilton was born in 1755 or 1757 and ended his life in a duel of all outdoor sports in 1804.
He was a smart man and you can study his picture on the US $10 bill. You might want to hang on to your tenner as there's a movement to put Ronald Reagan on the ten bucks bill instead.

Before - Alexander Hamilton on Ten Dollar Bill

After - Ronald Reagan on Ten Dollar Bill
Alexander Hamilton in a Nutshell
Alexander Hamilton was one of the Founding Fathers, meaning one of the gentlemen who came up with the

Constitution of the United States.
A hard worker, Hamilton was also a great administrator as well as a very practical and action oriented man. Too practical for some. They argue Hamilton lacked a philosophical side, which usually balances straight logical thoughts and promotes emotional intelligence.
In any event, Alexander Hamilton was the first Secretary of the Treasury of the United States. He held this position from 1789 until 1795.
Alexander Hamilton's Birth
Was Alexander Hamilton born in 1755 or in 1757?
The U.S. National Archives and Records Administration goes with the year 1757. The Alexander Hamilton Historical Society states the year 1755. If you can't decide either,

you can flip a coin online.
Hamilton was born on the island of Nevis in the West Indies, which is located in the Caribbean Sea, see map below. Today, the official name of the country is Federation of

Saint Kitts and Nevis. As the name indicates, the state consists of two islands. The capital, Basseterre, is located on St Kitts. The Federation is an independent member of the Commonwealth.

ALEXANDER HAMILTON WAS BORN ON NEVIS
These islands got creamed by Hurricane Georges in 1998.
Map courtesy of the FCO

The tiny island of Nevis today has a population of 46,000.
Alexander Hamilton's Family
Alexander Hamilton's father was James Hamilton.
Alexander Hamilton's grandfather was Alexander Hamilton from Ayrshire, Scotland.
Alexander Hamilton's mother was Rachel Fawcett Lavine. She became divorced from her husband, Mr. Lavine, in 1758, some years after Alexander's birth. And those of you who just raised an eyebrow might be interested in this eyebrow trimmer.


Eyebrow Trimmer ES112P
In 1765, father James Hamilton felt it was time to abandon the family, and so he did. Mother Rachel died a few years later, in 1768.
In 1780, Alex married Elizabeth Schuyler, daughter of General Philip Schuyler.

ELIZABETH SCHUYLER HAMILTON 1757-1854
Oil Painting by Ralph Earl. New York Historical Society
Elizabeth would became the mother of eight children. And here you can marvel at Alex's and Elizabeth's wedding ring.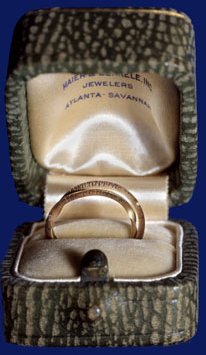 Wedding Right of the Hamilton's
Columbia University Libraries
In 1801, Alexander Hamilton's son Philip died in a duel at the same spot where, in 1804, his father would also catch the final bullet.
And here's the

list of recorded duels fought in Weehawken, NJ.
Alexander Hamilton's Early Years
In 1772, Hamilton was sent to school in Elizabethtown, NJ. In 1773, he went to College in New York (

King's College)
Independence from Britain
Hamilton was a strong supporter of independence from the British. He backed the

Boston Tea Party and wrote anonymous pamphlets for the cause.
In March 1776, Alexander Hamilton became captain in the Revolutionary Army. It was

George Washington himself who made Hamilton lieutenant colonel and private secretary.
Later, Alexander Hamilton was ready for fame and glory and asked Washington to give him a position in the army that could award him just that. The promotion didn't materialize and in 1781 Hamilton quit the service ranks. Later that same year, however, he was back in the army, holding the commanding post he so desired.
Together, they fought at

Yorktown.

ALEXANDER HAMILTON
Click image to enlarge
Post War Life
Hamilton settled in Albany, studied, and practiced law. A little later in 1782, he became an elected member of the Continental Congress. He was a promoter for the central government.
The year 1783 brought Alexander Hamilton to NYC where he continued to practice law. He became a delegate of New York at the Constitutional Convention in 1787 where he argued for unlimited power for the government over the states. He was co-signer of the

Constitution.
Alexander Hamilton wrote many political essays under different pen names. His writings became classics among the political literature of the United States.
First Secretary of the Treasury
Alexander Hamilton was appointed Secretary of the Treasury in 1789.
After Hamilton resigned in 1795, he remained a valued political adviser to the Washington office and even later to the Adams office.

Politically, Alexander Hamilton and

Thomas Jefferson were working against each other many times. Hamilton didn't agree much with

President John Adams either. In 1800, Hamilton published a nasty little thing called The Public Conduct and Character of John Adams, Esq., President of the United States.
The Hamilton-Burr Duel
Alexander Hamilton and Vice President Aaron Burr had hated each other's guts since quite a while. Aaron Burr then became outraged at something Hamilton allegedly had said at a dinner party, of all serious events.
When Aaron Burr demanded satisfaction, Alexander accepted.

Where did it happen?

The spot is today's Weehawken, New Jersey.


When did it happen?

On July 11, 1804.


How did it happen?

Aaron Burr aimed real good and, mortally wounded, Alexander Hamilton went down. Hamilton died the next day, on July 12, 1804, in New York, NY, and was buried in Trinity Churchyard in New York City.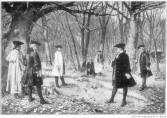 THE HAMILTON BURR DUEL
Click to enlarge

This website is dedicated to the Hamilton - Burr duel.
And not only did they track down descendants of both, Hamilton and Burr, namely Dough Hamilton and Antonio Burr, they also staged a re-enactment with the two as the main actors.

Here is more on Aaron Burr provided by the

New Jersey Historical Society.
Alexander Hamilton Trivia
Hamilton was fluent in French.


In 1801, Alexander Hamilton co-founded the New York Evening Post. The paper is still in print but the name switched to

New York Post. The paper claims,
"At more than 200 years old, it's the oldest continuously published newspaper in the country."

Find out more about the

Alexander Hamilton Institute for International Trade.
Hamilton was co-founder of the

Bank of New York.
Here is more Alexander Hamilton info from the

Alexander Hamilton Historical Society.
You can read

The Federalist Paper by Alexander Hamilton online and free.
More History