ALEKSEY IVANOVICH RYKOV
1881 - 1938

Lenin's Successor
At the peak of his political career, Rykov was the head of the Soviet government.

As such he was the Chairman of the Council of People's Commissars, aka Prime Minister, of the Bolshevik government.
Aleksey Ivanovich Rykov, also spelled Alexey Rykov, Alexei Rykov, Aleksej Rykov, or Алексе́й Ива́нович Ры́ков, was a right wing Bolshevik.
Of course there was no such thing in

Stalin's Little Handbook of Dictators and Rykov's career was terminated by the

Great Purges.

Rykov's Political Views
Rykov was for a reconciliation of all fractions within the Russian Social-Democratic Workers' Party. He was against a Bolshevik solo performance, which put him up against

Lenin. But Rykov compromised and he became a member of the Bolshevik government.
Together with Pravda chief editor Nikolay I. Bukharin, Rykov was one of the main supporters of the

New Economic Policy (NEP).

Rykov Vs. Stalin

Stalin sang Rykov's tune and used him to get rid of left-wingers like Trotsky, Kamenev, and Zinovyev. Stalin then turned 180 degrees, sang the tune of the recently politically ruined, and gave Rykov the eye.
Rykov found himself under the label Right Opposition, was arrested, convicted of treason, and executed. Welcome to Stalin Land.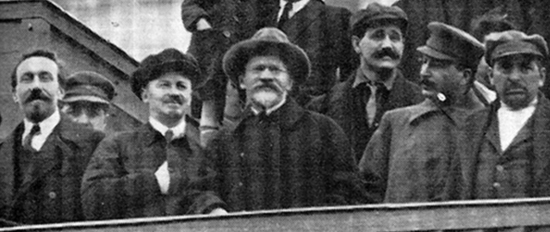 Left to right - Rykov, Bukharin, Kalinin, Uglanov, Stalin, and Tomsky
at Lenin's Tomb in Moscow in 1927 at the Tenth Anniversary of the Russian Revolution
marxists.org


Russia After Rykov
Rykov's successor as head of the Soviet government was cocktail enthusiast Vyacheslav Mikhaylovich Molotov.



Aleksey I. Rykov - Short Biography


February 25, 1881
(February 13, 1881 old style)

Birth in Saratov, Russia

1899

Joins the Russian Social Democratic Workers' Party

1903

The Social Democratic Workers' Party splits and Rykov sides with the Bolsheviks

February 8, 1904

The Russo-Japanese War begins

January 22, 1905
(January 9, 1905 old style)

The Russian Revolution of 1905 begins

1910 - 1911

Visits Paris

Back in Russia, arrested, exiled to Siberia

July 28, 1914

World War I begins

March 8, 1917
(February 23, 1917 old style)

The Russian Revolution of 1917 begins

Back to Moscow

November 6-7, 1917
(October 24-25, 1917 old style)

Bolshevik Revolution

1917

Rykov becomes Commissar of the Interior in the first Bolshevik government.

1918 - 1921

Chairman of the Supreme Council of National Economy

1922 - 1929

Member of the Politburo

January 1924 - 1930

Rykov succeeds Lenin as Chairman of the Council of People's Commissars

1937

Arrested

March 1938

Tried and convicted of treason

March 14, 1938

Death in Moscow
More History