John Adams 1735-1826
John Adams did his duty as second president of the United States from 1797 to 1801.
Before that, John Adams was the first U.S. vice president ever, from 1789-1797. Here is a

picture of him with George Washington.


Washington was ready for retirement after his two terms and on March 4, 1797, John Adams delivered his

Inaugural Address.
Adams had won elections by a narrow margin (71 to 68) running against

Jefferson, which made Thomas Jefferson vice president.
In 1797, John Adams had to deal with the

XYZ Affair and the resulting

Quasi War.
John Adams' Family
John Adams' wife was Abigail Smith Adams, who lived 1744-1818.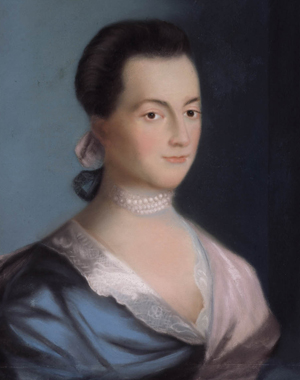 Abigail Adams 1744-1818
Massachusetts Historical Society

An argument could be made that the women's equal rights movement begun with Abigail Adams.

In the new code of laws which I suppose it will be necessary for you to make I desire you would remember the ladies, and be more generous and favorable to them than your ancestors. Do not put such unlimited power into the hands of the husbands. Remember all men would be tyrants if they could.

Abigail Adams in a letter to her husband John Adams
March 31, 1776
John Adams' eldest son was

John Quincy Adams.
His great-grandson was

Henry Adams.
Check the

US Election Map 1796 - 1968.
Check

Governments in History Chart.
And when John Adams looked at a map, it looked like this:

United States 1783-1803
Click map to enlarge
| | | |
| --- | --- | --- |
| First President of the U.S. | George Washington | 1789 - 1797 |
| Second President of the U.S. | John Adams | 1797 - 1801 |
| | | |
| Third President of the U.S. | Thomas Jefferson | 1801 - 1809 |
| Fourth President of the U.S. | James Madison | 1809 - 1817 |
| Fifth President of the U.S. | James Monroe | 1817 - 1825 |
| Sixth President of the U.S. | John Quincy Adams | 1825 - 1829 |
| Seventh President of the U.S. | Andrew Jackson | 1829 - 1837 |
Lesser Known Facts
As a young 33-year-old lawyer, Adams won an interesting case against the British crown. See

Rex v. Corbet
More History