Bonnie Prince Charlie 1720-1788
Bonnie Prince Charlie was the nickname of Charles Edward Louis Philip Casimir Stuart and his soup was usually cold by the time his mother was done calling him for dinner.
People also called him the Young Chevalier, or the Young Pretender.
Stuart, by the way, can also be spelled Stewart.
Image above:

Prince Charles Edward Stuart, 1732, oil on canvas, by Antonio David

Scottish National Portrait Gallery



Bonnie Prince Charlie's Family
Charles Edward's father was James Edward Stuart, also called the Old Pretender.
Charles Edward's mother was Maria Clementina Stuart, nee Sobieska.
Charles Edward's brother was Henry Stuart, who became Cardinal Duke of York.
Bonnie Prince Charlie and the Throne
Being a member of the royal

Stuart family, Charles Edward too claimed the British throne.
Trouble was, his grandfather,

James II, had been exiled and replaced by

William III and

Mary II in 1689, at which point Bonnie Prince Charlie lost his ticket to the throne.

Why did James II have to go?
Because he was too Catholic for the British. But his family was not completely cut off from ruling. Mary II, a Protestant, was his daughter.
Mary II died in 1694. After William III's death in 1702, it was Mary's sister

Anne who became queen.
Next in line would have been Sophia, granddaughter of

King James I. But Sophia died two months before Queen Anne died. This made Sophia's son, George Louis, the next ruler. He became King George I, ruled from 1714 to 1727, and was followed by his son, George II, who ruled 1727 to 1760. Next on the throne was George II's grandson George III, who ruled 1760 to 1820.
See also

Governments of Great Britain.

This was Bonnie Prince Charlie's background. How did Bonnie Prince Charlie fit in?
Not at all. And that was his problem.

BONNIE PRINCE CHARLIE
1720 - 1788
Bonnie Prince Charlie and the Jacobite Rebellion
In the midst of the

War of the Austrian Succession, Bonnie Prince Charlie came over from mainland Europe and landed in Scotland in July 1945. His intention was to fight his way all the way south to London and onto the throne.
His revolt was called the Jacobite Rebellion, which proved unsuccessful because of a lack of a sufficient number of supporters.
The Jacobite Rebellion was fought 1745 and 1746 and is not to be mixed up with the

Jacobite War.
About the Jacobites
Is the Jacobite Rebellion in any way related to the Jacobite War?
Yes, it is.
The Jacobites were in support of the restoration of the exiled King James II. When James II died, this group was not discouraged and kept fighting for the restoration of his heirs, Bonnie Prince Charlie being one of them.
James is Jacobus when you say it in Latin.
BATTLE OF CULLODEN - April 16, 1746

April 16, 1746 - one of Charlie's darker days. At Culloden Moor, about 6 miles or 10 kilometers east of Inverness, Charles met with William Augustus, who was the duke of Cumberland, for a 40 minute battle. Big victory for the Cumberland team.
Bonnie Prince Charlie and his Jacobites had an army of 5,000 troops. William Augustus and the British Redcoats had an army of 9,000 troops. Charlie lost 1,000 men, William 50.
By the way, it is perfectly legit to call the Battle of Culloden the Battle of Drummossie, because Colloden Moor is part of Drummossie Moor.
The Battle of Culloden was the last battle of the Forty-five Rebellion or the Jacobite Rebellion.
With the help of Flora Macdonald and other loyal friends, Charles managed to save his hide and escape to France. That was in September 1746.
Bonnie Prince Charlie's Later Years
Bonnie Prince Charlie went back to Europe, and, because he was still a Catholic, as close to Rome as possible.
He loved himself a good pint and, perhaps not completely unrelated to this preference, became Scotland's hero.

And here is a map of Charlie's Raid into England 1745-1746

Map of Bonnie Prince Charlie's Raid into England 1745-1746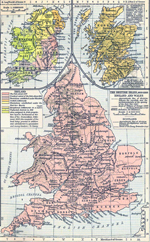 Map of the British Isles: Route of the Young Pretender (1745)
More History