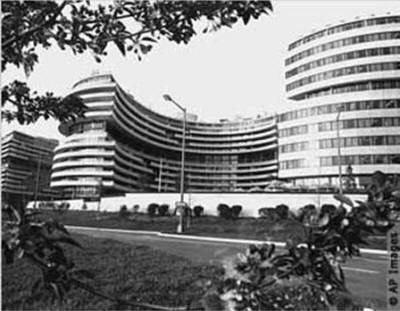 Watergate Complex, Washington
The Watergate Scandal
The Watergate Scandal was discovered during the term of

President Nixon, the 14th Republican president.
Image Above

The Watergate Complex in Washington in 1973

America.gov / AP Images


What is Watergate?
Watergate is a building in Washington DC where the Democratic National Committee had their headquarters.
See photo above.
In a Nutshell — What Happened?
In 1972, five men were arrested for breaking into the Watergate building, for theft and wiretapping. Investigations finally found out that the break-in was ordered.
Additionally, various other crimes were exposed, such as political espionage and corruption.
In the end, Nixon resigned and

Gerald Ford became the next president.

Nixon Resigns in Tears — 1974
Online Photograph. Encyclopædia Britannica.



Here is

President Ford's Pardon Speech for which he received a lot of criticism.

For more about Nixon's end of it, go here:

Richard Nixon and Watergate

Who Was Deep Throat?
Deep Throat was the alias for W. Mark Felt, an FBI agent. He leaked information to Washington Post reporters Bob Woodward and Carl Bernstein.
Deep Throat's identity wasn't revealed until the year 2005 when Vanity Fair magazine dropped the bomb in their July issue.
W. Mark Felt was on Larry King Live in 2006, talking for the first time publicly about Watergate.
Felt died on December 18, 2008, at the age of 95.

This from Associated Press:




Joan Felt and and her father Mark Felt look towards the media gathered in front of their home on May 31, 2005, in Santa Rosa, Calif.

Mark Felt, 91, was second-in-command at the FBI in the early 1970s. Felt claims he was 'Deep Throat,' the long-anonymous source who leaked secrets about President Nixon's Watergate cover-up to The Washington Post, his family said.

(AP Photo/Ben Margot)
Watergate Scandal — Trivia
The Watergate Scandal was made into a movie in

All the President's Men with Dustin Hoffman as Carl Bernstein and Robert Redford as Bob Woodward.
See what reporter Bob Woodward is up to these days:

BOB WOODWARD ON CHARLIE ROSE, OCTOBER 3, 2006
And the good man has written another book: Obama's Wars, released September 27, 2010.
More Papers
The National Archives in Washington released a batch of over 10,000 pages of documents from the Nixon presidency.
What are we looking at?
Mark Felt, aka Deep Throat, gets excellent recommendations from various individuals and people are urging President Nixon to make him the new FBI director. But Nixon skips Felt and appoints L. Patrick Gray instead. Gray resigns a year later because of allegations he had destroyed Watergate documents.


All kinds of things regarding the Middle East


Memos about whether or not to support a Kurdish revolt in Iraq


Young Dick Cheney's resume of the year 1969


Documents on Elvis' visit with Nixon on December 21, 1970.

Those were the days.

Elvis invited himself to the White House, as kings do, and, on December 21, 1970, he shook Nixon's hand in the Oval Office
Update July 29, 2011:
This from Reuters:
Nixon's secret Watergate testimony ordered released

More than 36 years later, the secret grand jury testimony of President Richard Nixon in the Watergate scandal was ordered released on Friday by a federal judge because of its significance in American history.

[...]

Nixon's grand jury transcript will not be released immediately because the government will have the opportunity to appeal. A Justice Department spokesman said government lawyers were reviewing the ruling.
Here is the entire

Reuters article.
November 10, 2011 Update — Thanks to the historian Stanley Kutler, University of Wisconsin, who sued to obtain a closer look at the Nixon / Watergate mess, the National Archives has released more documents for us.
Included are transcripts of President Nixon's grand jury testimony of June 23-24, 1975, and associated material. You can read everything online.
What's of special interest?
Famous head scratcher was the 18-1/2 minute gap on tapes of Nixon's White House conversations. The conversation was between Nixon and his chief of staff, H.R. Haldeman, after the break-in.
Did it include incriminating information about the break-in at Democratic National Headquarters by his campaign operatives?


And did Nixon's assistant, Rose Mary Woods, erase the conversation when she was transcribing the tapes?

The content of the conversation has never been revealed.
Nixon swore it was an accident that tapes had been erased. "Rose had thought it was four minutes ... and now the counsel have found that it is eighteen and a half minutes, and I practically blew my stack," Nixon told the grand jury.
Yet, some portions of the grand jury testimony are still classified to safeguard national security or the privacy of people who are still alive.
"I hereby resign the Office of President of the United States."
Richard M. Nixon, August 9, 1974