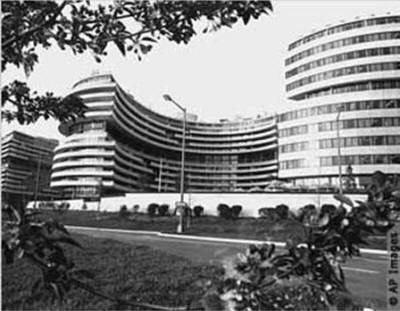 Watergate Complex, Washington
The Watergate Scandal
The Watergate Scandal was discovered during the term of

President Nixon, the 14th Republican president.
Image Above

The Watergate Complex in Washington in 1973

America.gov / AP Images


What is Watergate?
Watergate is a building in Washington DC where the Democratic National Committee had their headquarters.
See photo above.
In a Nutshell — What Happened?
In 1972, five men were arrested for breaking into the Watergate building, for theft and wiretapping.


From left: James McCord, Jr., Virgilio Gonzalez, Frank Sturgis, Eugenio Martinez, and Bernard Barker
Investigations finally found out that the break-in was ordered.
Additionally, various other crimes were exposed, such as political espionage and corruption.
In the end, Nixon resigned and

Gerald Ford became the next president.