William I the Conqueror 1028(?)-1087
William's real name was Guillaume because he was French. He was a smart and very determined man.
Among other nicknames, William answered to William the Bastard (Guillaume le Bâtard) and William of Normandy (Guillaume de Normandie.)

Of course, his favorite nickname was William the Conqueror (Guillaume le Conquérant.)


Who Ruled France at the Time?
That was the

Capetian family with Henry I at the time, who was king of France from 1026 - 1059. Henry's son Philip I ruled France from 1059 - 1108.
William's Family
William's father was Robert I of Normandy.
William's mother was Herleva, also called Arlette. Herleva was Robert's concubine, which explains the byname William the Bastard.
When Robert died in 1035, the only heir was wee William. Thus, William became William II, the new duke of Normandy.
Later, his mother married again and had three children from a Viscount Herluin. Hence, William had two stepbrothers and a stepsister.
One of William's half brothers was Odo.
In 1052, William married Matilda. Matilda was the daughter of Baldwin V of Flanders.
William and Matilda had four sons, Robert, Richard, William Rufus, and

Henry. They also had several daughters. One of them was Adela.
The Miracle
The miracle in William's story simply consists of the fact that he wasn't killed as a child. William was an illegitimate heir of a substantial inheritance surrounded by many family members who would have only benefited from his death.
The battle of Val-ès-Dunes, also called the Battle of Val-aux-Dunes, was fought in 1047 in the neighborhood of Caen, northern France.
Who fought?
William and his king, Henry I, who defeated the rebellious barons of Normandy.
Becoming the King of England
During his lifetime, English King Edward the Confessor apparently had the urge to make people happy. So what if he promised several individuals the throne upon his death. He wouldn't be around to have to deal with the mess.
One of the people in hope and waiting was Edward's brother-in-law

Harold. Another one was above mentioned William, duke of Normandy.
Edward died January 5, 1066. The English gave Harold the crown and the Normans prepared for a trip.
On September 27, 1066, William and his troops sailed direction England, thus starting the

Norman Conquest.
On October 14, 1066, Harold was killed in the

Battle of Hastings, in Sussex, England. For nine months, Harold had been Harold II King of England. Now it was William's turn to rule.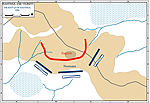 1066 Battle of Hastings (USMA)
Being now English King William I, the Conqueror cleaned house, replaced British government of