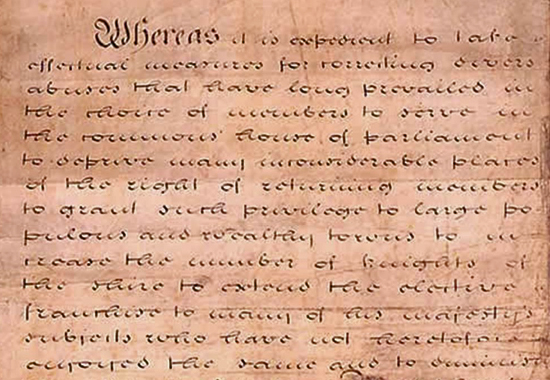 THE GREAT REFORM ACT OF 1832

Reform Act 1832
Go here for the

Reform Act of 1832 - The Original Document
Go here for the

Reform Act of 1832 - The Transcript
The Reform Act of 1832 is also called the Reform Bill of 1832.
Another name for it is the Great Reform Act because it was the first of several reforms concerning the same topic.
The Second Reform Act was passed in 1867.
The Third Reform Act was passed in 1884.
What Was the Reform Act of 1832 all About?
The right to vote and the fair number of representatives in the House of Commons in the British Parliament.
What Was the Background of the Reform Act of 1832?
Back in the days, not many people had the right to vote. By the 18th century, many people thought this was completely outdated, that all men should be given the right to vote, and that it was time for parliamentary reforms.
Another point was that industrial developments brought about a change of the distribution of the population. Before, people lived all over the places, more or less evenly spread. Now, the cities grew like mad.
But the laws didn't grow with the cities. So it happened that some large cities like Leeds, Birmingham, or Manchester didn't have a single representative. Whereas other deserted places, also called rotten boroughs, had representatives but almost zero population. Such was the case with Dunwich in Suffolk, who had two representatives and a population of 32.
Governmental officials dragged their feet but had to take the

French Revolution as an example of what could happen to a stubborn administration. The Reform Act became official law on June 4, 1832.
Who Governed Britain at the Time?
Lord Charles Grey, aka Earl Grey, the leader of the Whig party, was Britain's prime minister from 1830 to 1834. He was the main man behind the Reform Act of 1832.

William IV was king of Great Britain and Ireland from 1830 to 1837. He was against parliamentary reform because it meant more power for the people and less power for the crown.

And here are the maps for the Reform Act of 1832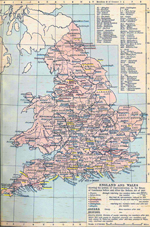 1832 England and Wales
Click map to enlarge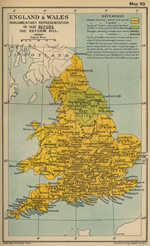 1832 England and Wales BEFORE Reform Bill
Click map to enlarge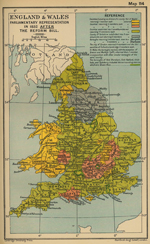 1832 England and Wales AFTER Reform Bill
Click map to enlarge
More History