Gustav II Adolf 1594-1632


Gustav's Latin name was Gustavus Adolphus. He was king of Sweden from 1611 until 1632.
Gustav's father was Charles IX, who was king of Sweden 1604 - 1611. His mother was Christina of Holstein.

In 1630 and as part of the

Thirty Years' War, Gustavus Adolphus marched into Germany to the assistance of the Protestants, who were nearly crushed by the Austrian armies.

Thirty Years War: Swedish Invasion 1630


He gained several great victories, for example at the Battle of Breitenfeld, which was fought on September 17, 1631.

Map of the Battle of Breitenfeld - Initial Disposition

Battle of Breitenfeld - Opening Moves

Battle of Breitenfeld - Stopping the Attack

Battle of Breitenfeld - Final Moves
At the Battle of Lützen on November 16, 1632, Gustav lost his life. The Swedes, however, won the battle.

1630-1632 Thirty Years War - Prelude to the Battle of Lutzen

Map of the Battle of Lützen (Lutzen)
Here is Charles Montague Shaw as Gustav II Adolf, dying at the battlefield.

Gustav II Adolf's Last Breath on the Lutzen Battlefield, Germany

Go here for more on the movie

Queen Christina.
Even after Gustav's death, Sweden, under his statesmen and generals, continued to take a leading part in the war.

Gustav's successor was his daughter

Christina.

Here is a map of Gustav's acquisitions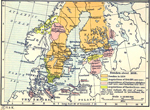 SWEDEN 1524-1660
Click map to enlarge

Here is a map of Gustav's campaigns:

GUSTAVUS ADOLPHUS CAMPAIGNS 1630-1632
Click map to enlarge
More History