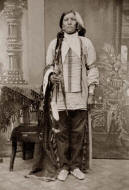 Crazy Horse 1840(?)-1877
Image above:

This might or might not be a photograph of Crazy Horse.

The good people at the Custer Battlefield Museum think it probably is.
What does Neil Young
and his Crazy Horse album
have to do with this?

Absolutely nothing.
Think Native American instead.
Crazy Horse's Indian name was Ta-sunko-witko. He was born around 1840 or 1842 by the Belle Fourche River, which is near Bear Butte, close to your today's Rapid City in South Dakota.
The surrounding Black Hills were Crazy Horse's home turf.
Crazy Horse died on September 5, 1877, at Fort Robinson, Nebraska. Apparently, no one knows where he was buried.
George E. Hyde described Crazy Horse as a genius at war and a lover of peace. He was a bit of a loner and not very talk enthused. His folks thought him a little bit unorthodox when it came to following traditions, for which Crazy Horse didn't seem to care too much.
Crazy Horse might or might not have been a chief as such but we know for sure that he was a Sioux of the Oglala branch and that he acted as a leader several times in his life.
Crazy Horse