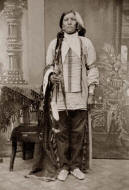 Crazy Horse 1840(?)-1877
Image above:

This might or might not be a photograph of Crazy Horse.

The good people at the Custer Battlefield Museum think it probably is.
What does Neil Young
and his Crazy Horse album
have to do with this?

Absolutely nothing.
Think Native American instead.
Crazy Horse's Indian name was Ta-sunko-witko. He was born around 1840 or 1842 by the Belle Fourche River, which is near Bear Butte, close to your today's Rapid City in South Dakota.
The surrounding Black Hills were Crazy Horse's home turf.
Crazy Horse died on September 5, 1877, at Fort Robinson, Nebraska. Apparently, no one knows where he was buried.
George E. Hyde described Crazy Horse as a genius at war and a lover of peace. He was a bit of a loner and not very talk enthused. His folks thought him a little bit unorthodox when it came to following traditions, for which Crazy Horse didn't seem to care too much.
Crazy Horse might or might not have been a chief as such but we know for sure that he was a Sioux of the Oglala branch and that he acted as a leader several times in his life.
Crazy Horse is said to have been loved for his charity and courage. He was a skilled fighter. He became the symbol of Sioux freedom, courage, and dignity.

Crazy Horse - The Timeline
There was a great Sioux uprising in Minnesota in 1862, which was the time of the

American Civil War. The Sioux, led by Little Crow, were defeated by the whites.
Around 1865, the white man decided to build a road through the northern Great Plains up to Montana - the Bozeman Trail. Reason was the gold findings there. On December 21, 1866, frictions between whites and Indians escalated. Near Fort Phil Kearny in Wyoming Territory, the Indians killed 80 whites including their Captain William J. Fetterman, who, some say, had it coming.
There was more trouble on August 2, 1867, in what became known as the Wagon Box Fight. Again close to Fort Phil Kearny in Wyoming Territory, Captain Powell and approx. 40 men were attacked by Indians, however, this time the whites were able to defend themselves.
The tension between Indians and whites grew as more and more whites moved in while the game (ergo food) moved out.
The Second Treaty of Fort Laramie - August 1868
This treaty guaranteed the Indians possession of the Dakota territory west of the Missouri River. That was until in 1874 gold was discovered in the Black Hills, which was Dakota Territory.
The US government had a problem because their people weren't willing to give up the gold. So it ordered that all Indians had to go back to their reservations by January 31, 1876. Most likely, this decision of the US government did not go out to each and every Indian. At the same time, many of the Indians who knew about it deeply resented it.
Not surprisingly hostility increased.
When General George Crook tried to force Crazy Horse to move away from his winter camp on the Tongue and Powder rivers in Montana Territory, Crazy Horse and his people wen