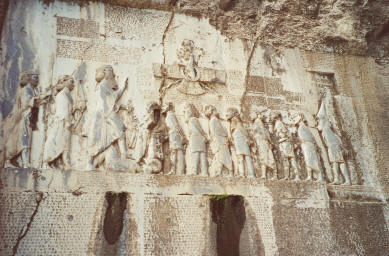 BEHISTUN ROCK

Behistun Rock
Behistun, Bisitun, or Bisotun is the word for an ancient village and a steep rock located in today's Iran.
Bisitun became an official UNESCO World Heritage Site in 2006.

Back in the days, Persian king

Darius I carved an inscription in cuneiform into this rock wall.

What in the world is cuneiform?
This wall was situated at the roadside along the highway which led from Ecbatana to Babylon. Here is the map, look between Ecbatana and Babylon, it's labeled "Bisitun"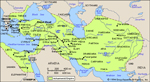 Behistun Map - Click to enlarge


Darius wanted to make sure people would understand, so he chiseled away in three languages, Babylonian, Ancient Persian, and Elamite.
Fast forward to the year 1835 and we have Major

Henry Rawlinson of the East India Company in a semi-orgasmic state, as he managed to make sense of some alphabet and grammar. Eventually, Rawlinson deciphered the Persian part of the inscription. The rest was decoded shortly after.

What did Darius write about?
In a nutshell, Darius wrote about his royal doings from 522 until 520 BC, which included killing Gaumata and other rebels, and keeping his empire organized.

Here is the translation.
More History