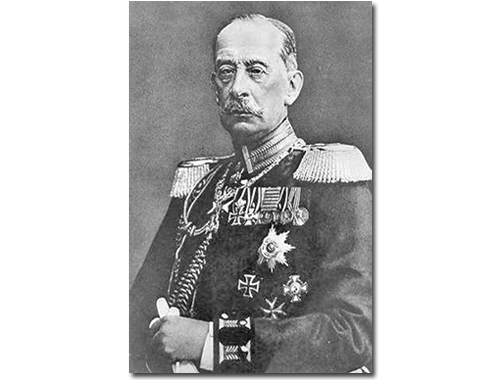 Alfred Graf von Schlieffen 1833 - 1913
Image above:

Photograph of Alfred Graf von Schlieffen

Deutsches Historisches Museum


Alfred von Schlieffen was a graf, which is German for count. Von Schlieffen was born, and died, in Berlin.
Alfred Count of Schlieffen's father was a Prussian general.
Schlieffen also chose a military career and joined the German army in 1854. He fought in the

Seven Weeks' War as well as in the

Franco-Prussian War. Progressing in his career, Alfred was made officer and, in 1891, the person in charge of the general staff. His German job title read Generalfeldmarschall.
Alfred Graf von Schlieffen developed a war strategy, the Schlieffen Plan.
The Original Schlieffen Plan
In the 1800s, political tension was brewing in Europe. Nations formed alliances with each other in fear of losing the balance of power. Soon emerged two sets of military alliances:
Germany, Austria-Hungary, and Italy (Triple Alliance) on one side and
England, France, and Russia on the other (Triple Entente).

It became obvious that the one attacking first would have a big advantage.
Germany, in particular, was sandwiched by Russia to the east and France to the west. Alfred von Schlieffen's predecessors always voted for attacking Russia first, then France.
Von Schlieffen thought that was nonsense because he figured that the Russians would need at least six weeks to mobilize their armies at any given point. This time would be enough for Germany to crush the west if almost the entire German military strength could be focused on this attack.
Then came the year 1906 and Alfred von Schlieffen retired.

Von Schlieffen
The Modified Schlieffen Plan
Helmuth von Moltke, nephew of famous

Helmuth Graf von Moltke, became Alfred Schlieffen's successor.
Schlieffen died in January 1913 and the original Schlieffen Plan was put on ice.

However, at the outbreak of

World War I, Moltke decided to run with Alfred Schlieffen's basic idea, which was to attack the West first.
But von Moltke and his co-strategists did not put as much oomph into the attack as Schlieffen had pointed out would be absolutely necessary for this plan's success.
Here are the maps in comparison:

Map of the original Schlieffen Plan 1905 (left) and Moltke's version 1914 (right)
And Schlieffen was right. In 1914, Germany failed to have a quick victory in the west and from there it went downhill for the German score in World War I.
Some think Germany could have won had they applied the unaltered Schlieffen Plan. Others try to decide whether or not that would have been a good thing.
And here are two more maps: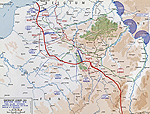 1918, Sept 25-Nov 11 - WWI: Western Front - Final Allied Offensive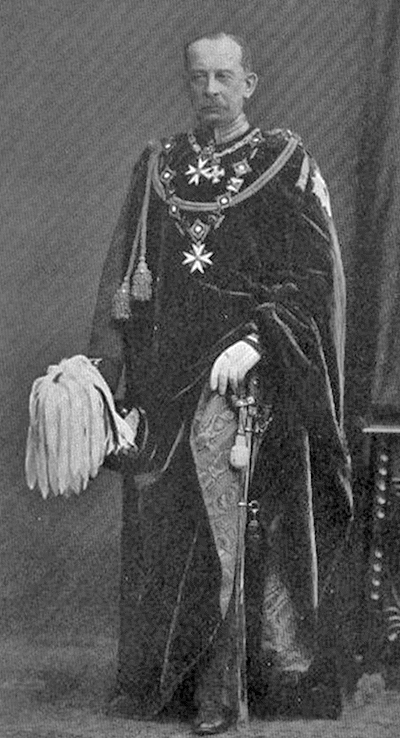 A Knight of the Order of the Black Eagle -
Alfred Graf von Schlieffen Dressed Up in 1890


More History