Kublai Khan 1215-1294
Image above:

Kublai Khan

National Palace Museum, Taipei, Taiwan

Hailing from Mongolia, Kublai Khan became the conqueror of China, setting up his own dynasty in 1279.
See also

Governments of China.
Kublai Khan's Family
Kublai Khan was the grandson of

Genghis Khan.

Kublai's father was Tolui.
Kublai's brother was Möngke, or Mangu. Mongke became the ruler of the Mongol Empire in 1251.
Another brother was Hülegü, or Hulagu.
Youngest of Kublai's brothers, and cause for considerable tension between the brothers, was Arigböge, or Arikböge. Arigboge proclaimed himself ruler of the Mongol Empire in 1259, after Mongke had been killed in battle. Kublai imprisoned him in 1264. He died in 1266.

Genghis Khan's successor was Kublai's uncle Ogodei. Ogodei's grandson Kaidu figured he was the rightful heir and fought Kublai for the leadership until his, Kaidu's, death in 1301.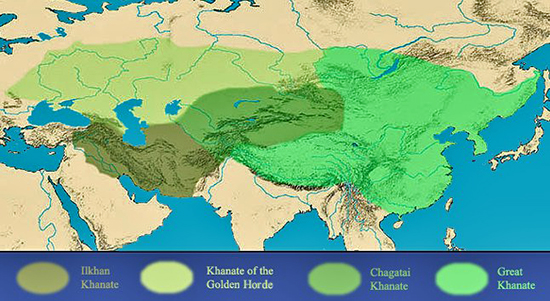 Ilkhan Khanate, Khanate of the Golden Horde,
Chagatai Khanate, and Great Khanate
EDSITEment
Kublai Khan and Marco Polo

Marco Polo's travel writings tell us about Kublai Khan, his realm, and his time.
And here are the maps:


MARCO POLO'S TRAVELS
Click to enlarge

ROUTE OF MARCO POLO
Click map to enlarge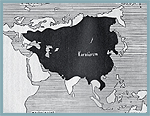 1300 The Yellow Empire, Karakorum
More History