Genghis Khan 1162-1227


The following quote is ascribed to Genghis Khan:
Happiness lies in conquering one's enemies,
in driving them in front of oneself, in taking their property,
in savoring their despair, in outraging their wives and daughters.

The name Genghis Khan stands for Universal Ruler. Genghis Khan's birth name was Temüjin (Temuchin.)

One of the world's most infamous conquerors, Genghis Khan united the tribes of Asia and formed the greatest continental empire in history, the Mongol Empire.

In spite of his meek nomadic upbringing, he proved to be a brilliant soldier and statesman. Genghis Khan's ambition and determination provided the basis for his extraordinary military conquests, the defeat of great empires by means of comparatively small armies.
And if you think today's

Mongolians are ashamed of Genghis, you're dead wrong. It's their national hero.
Earning a Reputation
While Genghis Khan and the Mongols were quickly advancing across the continent, they sent a group of diplomats to the Khwarezmid Empire, modern Turkmenistan / Uzbekistan. Intimidated by the Mongol's increasing strength, the Khwarezmid ruler put these foreign representatives to death.

Genghis Khan's response was one of systematic destruction. There was no pardon for either the people or their lands. People were ruthlessly massacred. One city after another, their land was completely destroyed.

The Mongolian chief developed a reputation for acting with unpredictable barbarism and horror. This reputation alone was the reason for many of his victories, since enemies often were paralyzed with fear.
And here is the map

Mongol Dominions 1300-1405
Click map to enlarge


Genghis Khan's Military Strategy
In his work Great Captains Unveiled, the military historian Basil Henry Liddell Hart analyzed Genghis Khan's battle strategy and, interestingly, found many similarities with German battle strategies in

World War II.
Genghis Khan's Family
Genghis Khan's father, Yesügei, was poisoned by a rival tribe when he was 9 years old. His mother was Höelün. His spouse, Börte, was kidnapped by the Merkit tribe. The tribe paid for this dearly.

Genghis Khan had four sons:
Jöchi (Juchi)
Chagatai (Tsagadai)
Ögödei (Ogadai), and
Tolui.


Genghis Khan's successor was Ögödei. He ruled the

Golden Horde until 1241.


Genghis Khan had two famous grandsons:


Kublai Khan, the conqueror of China and promoter of paper money, and

Batu Khan, who burned Kiev to the ground.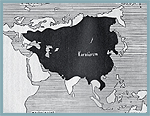 The Yellow Empire at its largest extension
Genghis Khan Short Biography
1162 Birth near Lake Baikal, Mongolia

1206 Becomes Genghis Khan of the Mongolian Empire

1211 Attacks the north of China

1215 Captures Peking

1220 Overruns the Muslim Empire of Khwarezm

1226 Last campaign against Hsi Hsia, modern northwest China

1227 Death (exact location unknown)
Genghis Khan Trivia

This gentleman claims he is a descendant of Genghis Khan. See what you think.

Here is

Genghis Khan's timeline.
More History