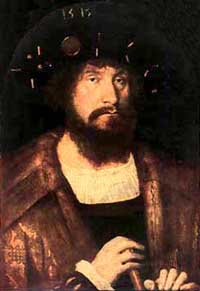 Christian II 1481-1559


Christian was king of Denmark and Norway from 1513 - 1523, and king of Sweden 1520 - 1523.
The Family of Christian II
Christian's father was John, the king of Denmark and Norway.

In 1515, Christian married Elizabeth of Habsburg, sister of Charles, who would become four years later the Holy Roman Emperor

Charles V.
Civil unrest in Sweden prompted Christian to invade the country, to make himself king of the Swedes, to break all promises, and to kill over 80 Swedish nobles. The slaughter of the Swedes on November 8, 1520, became known as the Stockholm Bloodbath.

In 1523, Christian was kicked out of the country by his uncle Frederick. Christian went to the Netherlands but sneaked back into the country.
In 1532, he was arrested and imprisoned for the remainder of his life.
See also

Kalmar Union.
More History