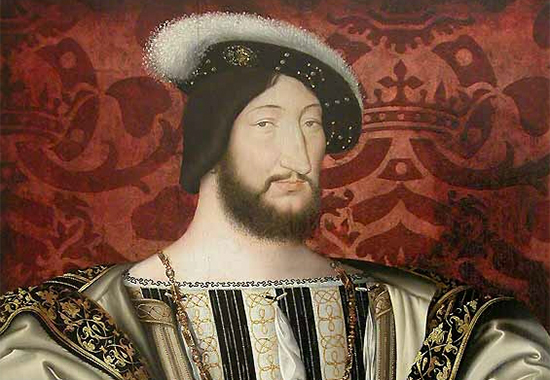 Francis I of Angoulême 1494-1547
Image Above

Detail from the Portrait of François Ier, king of France

Painting by Jean Clouet, around 1530

Musée du Louvre


Francis I of Angouleme was the king of France from 1515 - 1547.
In 1518, Francis added to his art collection a portrait of

Lisa del Giocondo.



The main trouble in Francis' days were the wars with the Holy Roman Empire, which were fought from 1521 - 1544.
Leader of the Holy Roman Empire and Francis' archenemy was

Charles V, with whom he fought the

Italian Wars.


In 1525, Francis was defeated and taken prisoner by the imperial army at Pavia.
One of Francis' soldiers was

Sampiero Corso.
One of Francis' explorers was

Jacques Cartier.
And here is a map of the wars of France and the Empire:

1521 France Eastern Border
Click map to enlarge
See also a list of the

French kings on the Governments in History page.
More History