Who Won the First Punic War?
Rome won and Carthage lost Sicily.
Why Was the First Punic War Fought?
The First Punic War's primary cause was the desire of both, the Romans and the Carthaginians, to possess themselves of Sicily.
The Romans formed a fleet, and successfully competed with the marine of Carthage. During the latter half of the war, the military genius of Hamilcar Barca sustained the Carthaginian cause in Sicily.
At the end of twenty-four years, Carthage was defeated and the Carthaginians sued for peace. Rome imposed crippling terms for peace.
Sicily became a Roman province.



Here are the maps: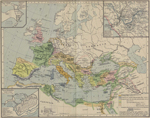 Map of Rome's Expansion 264-180 BC
Click to enlarge

Map of Italy and Vicinity at the
Beginning of the Second Punic War 218 BC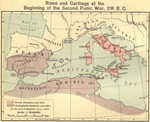 MAP OF ROME AND CARTHAGE AT THE BEGINNING
OF THE SECOND PUNIC WAR 218 BC