John II the Good 1319-1364
John was also called John the Good, or rather Jean le Bon, as he was king of the French 1350 - 1364.
September 19, 1356, was the day that changed John's life forever when he was taken prisoner by the English at the

Battle of Poitiers, a battle of the

Hundred Years' War.
On May 8, 1360, the

Treaty of Bretigny was concluded between John II and

Edward III of England. Conditions were determined under which John could be liberated.
On October 9, 1360, John was released but he turned himself back in a bit later, in 1364. Now, why would he do that? Some say it was because his son Louis, who was in English custody, had escaped. Others say it was because he was unable to raise the amount of money the English demanded in the Bretigny Treaty.
John died in London and his son

Charles V became king of France.
Here are the maps

Map of the English Campaigns in France in the Reign of Edward III, 1327 - 1377
Click map to enlarge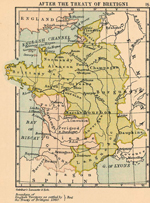 Map of France after the Treaty of Bretigny in 1360

France at the Death of Edward III in 1377
Click on map to enlarge
More History