The Battle of Poitiers was part of the

Hundred Years' War and it was a bad day for France.
English

Edward The Black Prince captured French King

John II and put him in the Tower of London.
It took the

Treaty of Brétigny to get him out of there. Of course John was competing to become John the Good and turned himself back in. But that's another story.
Back to the Battle of Poitiers.

Who was fighting?
England with Edward the Black Prince, Sir John Chandos, Jean III de Grailly, and about 7,000 troops vs. France with King John II in the lead.
Who won?
England won the Battle of Poitiers.

And on this map you can trace the march of the Black Prince to Poitiers, 1355 - 1356:

France 1327 - 1377
Click map to enlarge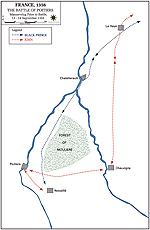 1356 Battle of Poitiers: Positioning