Edward III 1312-1377


Edward III was King of England from 1327 until 1377. People also called him Edward of Windsor.
The Family of Edward III
In 1328, Edward III married Philippa of Hainault. Together they had fourteen children.
Two of the kids became famous, son

Edward The Black Prince and son

John of Gaunt.
The Reign of Edward III

The problem of the day was foreign relations with France, which continually went downhill became officially a disaster in 1337 when it culminated in the

Hundred Years' War.
Edward III was also busy fending off the Scots who tried to invade England in 1346.
In 1346, Edward III invaded France and won the

battle of Cressy.
In 1348, Edward III established the

Order of the Garter.
In 1369, the Black Death got the better of Edward's wife Philippa.
The Succession of Edward III
When Edward III died in 1377 his grandson Richard of Bordeaux (son of Edward the Black Prince) followed him to the throne as Richard II.

Here is the map of France during the reign of Edward III.

France 1327 - 1377
Click map to enlarge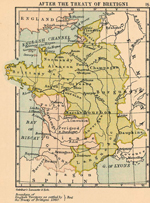 Map of France after the Treaty of Bretigny in 1360

And this is the map of France after the death of Edward III.

France at the Death of Edward III
Click on map to enlarge
More History