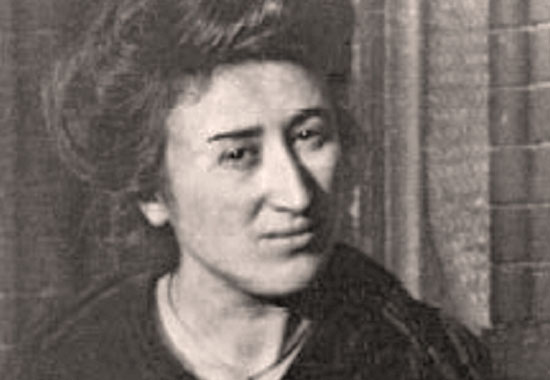 ROSA LUXEMBURG
1871 - 1919

Marxist Humanitarian With Guts
Rosa Luxemburg was nicknamed Bloody Rosa, which gives us a hint.
Rosa was a revolutionary and ballsy enough to criticize Lenin and Trotsky, for which she had to take a lot of heat, of course.


There are two things that are fact:

One - Rosa Luxemburg was all-action-no-armchair.

Two - Rosa Luxemburg never moved an inch from believing in humanitarianism.


According to dictionary, a humanitarian is a person who seeks to promote human welfare. In other words, people before rules.
Communism According to Rosa Luxemburg
Luxemburg disagreed with the Polish Socialist Party and hence co-founded the Polish Social Democratic Party, or the Social Democracy of the Kingdom of Poland, which later became the Polish Communist Party.
Rosa's interpretation of Marxism is called Luxemburgism.
Instead of Communists being primarily concerned about their own country, aka nationalism, Rosa Luxemburg wanted all Communists to focus first and foremost on the Socialist world revolution, aka internationalism. This point was one of the main differences between Luxemburgism and Leninism.
Rosa Luxemburg declared the mass strike a solid tool to achieve Communist goals, and was opposed to Lenin's approach which tolerated violence if applied in pursuit of the greater good.
For more interpretations of Marxism, see also

Communism - Luxemburgism
Rosa Luxemburg's Political Party
Luxemburg was also co-founder of the

Spartacus League (in German: Spartakusbund,) which became the German Communist Party in December 1918.
Together with Karl Liebknecht and others, this group was formed to fight Germany's involvement in

World War I, to topple the government, and to start fresh with a working class government. Luxemburg saw it necessary to launch this new faction because the German Social Democratic Party was supporting Germany's stance on WWI. She did not.
Rosa Luxemburg's Family
Rosa Luxemburg's father was Eduard Luxemburg. Rosa's mother was Line Luxemburg. Rosa's parents were Jewish.
Rosa had four siblings. She was the youngest.
Leo Jogiches became a close friend.
In 1898, Rosa Luxemburg married Gustav Lubeck (Lübeck) and moved to Berlin, Germany.
Rosa Luxemburg's Death

When it came to protesting in the streets Rosa Luxemburg took the lead. It all went down the tubes when she and Karl Liebknecht were killed by reactionary troops in the Spartacus Revolt of January 1919.
Let's face it. Given the chance, she would do it again.
Rosa Luxemburg - Short Biography



March 5, 1871

Birth in Zamosc, or Zamosac, Poland (then part of the Russian Empire)

1889

Emigrates to Zurich, Switzerland

1889 - 1898

Still in Zurich, she studies law and political economy, receives a doctorate

1898

Goes to Paris, edits the Socialist paper Worker's Cause

1898

Marries Gustav Lubeck, moves to Berlin, obtains German citizenship

1905

Still in Berlin, and as a member of the German Social Democratic Party, Rosa edits the paper Forward.

1905

Goes to Warsaw, Poland, to donate her contribution to the Russian Revolution of 1905

1906

Gets arrested in Poland

1907

Out of jail and back to Berlin.

June and July, 1907

Jail time in Berlin

1907 - 1914

Teaches Marxism and Economics at the Social Democratic Party School in Berlin

July 28, 1914

World War I begins. Check this event in the Timeline of WWI.

July 29, 1914

Socialist International Convention at Brussels. Rosa attends.

September 1914

In opposition of the WWI, Rosa Luxemburg, Karl Liebknecht and others form the International Group.

January 1, 1916

The International Group is renamed the Spartacus League.

1916 - 1918

Jail time, Rosa makes good use of her time and writes The Crisis, see also Rosa Luxemburg's Writings.

November 8, 1918

The German Revolution of 1918 (November Revolution) gets Rosa out of jail

January 5, 1919

The Spartacus Revolt begins

January 15, 1919

Death in Berlin, Germany
1889 - Reform or Revolution

1906 - The Mass Strike, the Political Party, and the Trade Unions

1913 - The Accumulation of Capital

1916 - The Crisis in the German Social Democracy

1922 - The Russian Revolution
More History