Originally from Europe, the Vandals fled from the

Huns, trashed their way through Gaul and Spain, and finally, led by their king Genseric, set up their headquarters in the Roman province of North Africa. The year? 429.
In 439 the Vandals captured

Carthage and made it their capital.
In 533, it was over with the Vandals when General Belisarius of the East Roman Empire destroyed their kingdom.
And here is the map

MIGRATION OF THE VANDALS
Click map to enlarge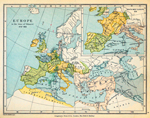 476 - 493 Europe in the time of Odoacer