Batu Khan ? - 1255
Image above:

Batu Khan bust located at Sogut (Söğüt), Turkey

Photo Maderibeyza
Batu was the grandson of

Genghis Khan.
In 1235, Batu was promoted commander of chief of the eastern Mongol army. The assignment? The conquest of Europe.
Great task, great genes, and Batu did a great job. Five years later Moscow and Kiev were defeated. Another two years and Hungary and Poland were in the bag. Germany was next on the list.
Unfortunately for the Mongols and luckily for the rest of Europe, the great khan of the

Golden Horde, who was also Batu's brother, Ögödei (Ogodei), died in December 1241 and Batu and his troops went back to Karakorum, then the capital of the Mongol Empire.

And here are the maps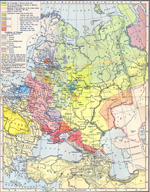 GOLDEN HORDE IN EUROPE
Click map to enlarge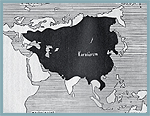 The Yellow Empire at its largest extension
More History